With the latest update to iOS 16, people are looking for the latest and most effective way to fake an iPhone's GPS location. Some users desire to visit different locations on apps like Pokemon GO in order to improve their in-game performance. Some users want to change their location on dating apps or share their virtual locations on messaging apps. Others are also looking for a technique to hide their location on Find My Phone. No matter what you want to do with your iOS location, you may don't want to jailbreak it.
So today we will share with you an overview of how to use AimerLab MobiGo to spoof your iOS 16 location without jailbreaking.
What is AimerLab MobiGo?
AimerLab MobiGo is a fantastic software that allows users to change the GPS coordinates of their iPhone to any place in the world. In addition, it provides a simple method to spoof locations without requiring the user to jailbreak or root their device, which protects the user from being followed or observed.
AimerLab MobiGo also offers you access to a wide variety of location-based apps and will make it much simpler for you to play AR games like Pokemon. It is compatible with all versions of iOS and performs quite well on iPhone, iPad, and iPod.
Key Features of AimerLab MobiGo
Spoof your iOS device location without jailbreaking or rooting.
Teleport your iOS device location to any place on the planet.
Simulate GPS movement at your preferred speed.
Simulate more realistic movement by using the joystick feature.
Compatible with all location-based applications, including Pokemon GO, Facebook, Tinder, Instagram, and Find My iPhone.
Compatible with iOS devices and versions, including the latest iOS 16.
Spoof location on up to five devices simultaneously.
Spoof GPS location using a USB cable or wireless Wi-Fi.
How to Spoof iOS location with AimerLab MobiGo?
To spoof your iOS location with AimerLab MobiGo, just follow the steps below:
Step 1: Download, install, and then run the AimerLab MobiGo location spoofer
You will need to download, install, and then run AimerLab MobiGo location spoofer on your computer. To start using MobiGo to change the GPS location of your iPhone, please click the "Get Started" button.
Step 2: Connect your iOS device to your computer.
You can connect your iPhone/iPad/ iPod to your Mac or Win by using a USB cable or wireless Wi-Fi. To connect with WiFi, you need to connect via USB at the first time, then you can directly use WiFi in the future. Then follow the on-screen prompts to enable access to your iPhone's data.
Step 3: Turn on Developer Mode
For iOS 16 users, it's necessary to turn on the developer mode. You need open "Setting" > Select "Privacy & Security" > Tap on "Developer Mode" > Turn on the "Developer Mode" toggle.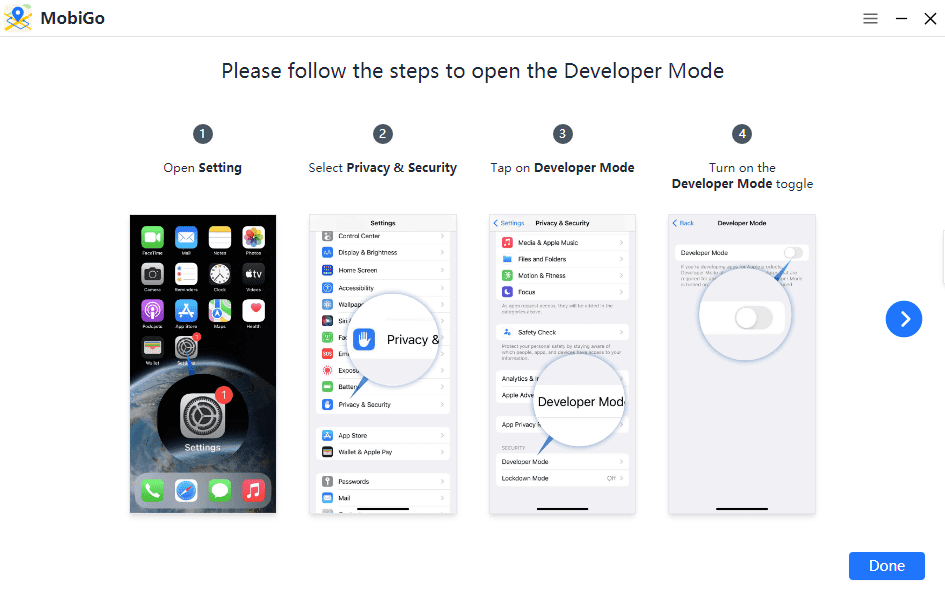 Step 4: Select a teleport mode and spoof your location
Your current location will be displayed on a map in the new window after connecting your iPhone to the computer. There are four teleport modes in AimerLab MobiGo, you can choose one of them to teleport your location according to your needs.
To use "Teleport Mode", you need to select the first icon in the upper right corner. You can select a location by clicking on the map or by typing the desired address. Click "Move Here", your GPS coordinates will be instantaneously changed to the new location.
You can simulate the movement between two points with MobiGo One-Stop Mode. You can start this mode by clicking the second icon in the upper right corner. Choose a location on the map that you want to visit, and click "Move Here". Later you can see how your location on the map is moving at the speed you chose.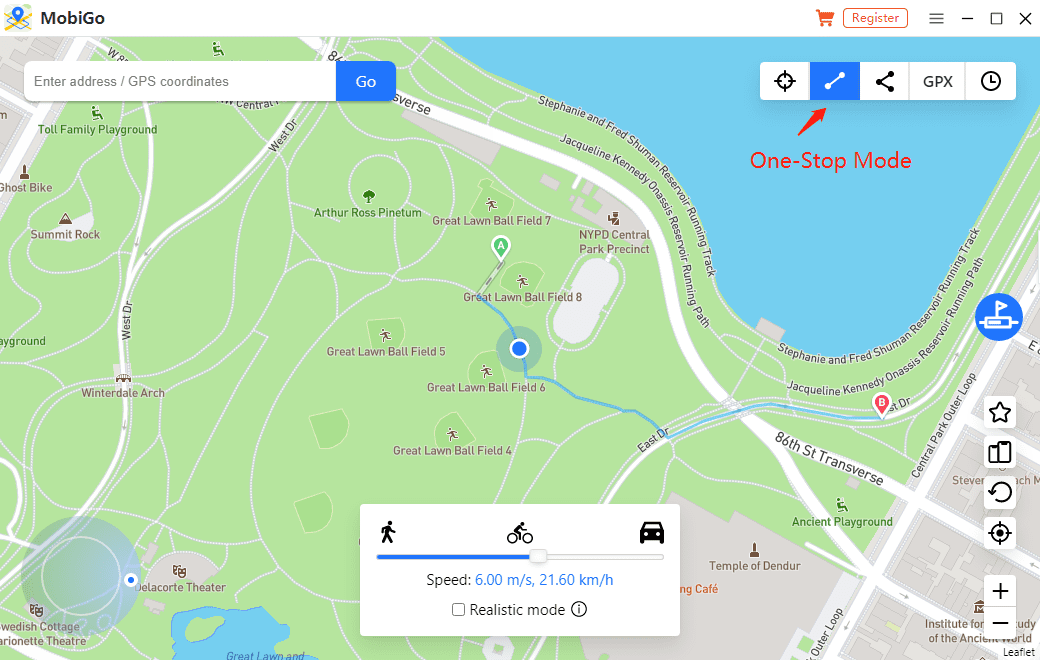 AimerLab MobiGo enables you to simulate the movement among multiple locations along a path. You can use this mode by clicking the third icon in the upper right corner, then choose several spots you want to move through, and click the "Move Here" button to to start the movement.
You can also quickly simulate a route using MobiGo's GPX feature. To begin your simulation, click the GPX icon to import your GPX file from your PC into MobiGo, then click the "Move Here" button.
Step 5: Check Your iPhone location
You can check your new location by opening the Map app on your iPhone.
AimerLab MobiGo Support
AimerLab MobiGo's customer service department is open 24/7 for any user that needs assistance. You can contact them whether you're a paid or unpaid user. The AimerLab MobiGo support staff will respond to requests for refunds, cancellations, and registration code retrieval right away. You can also get in touch with them for any other issues. And we didn't find any unfavorable or concerning issues in the user reviews we checked for AimerLab MobiGo.
Conclusion
This overview has shown that AimerLab MobiGo is the best GPS Spoofer for iPhone and iOS 16 if you do not wish to use a VPN or jailbreak your iPhone. With AimerLab MobiGo, iOS 16 users can effortlessly hide their location to protect their privacy. It's compatible with any location-based app on your iPhone and has essential features that allow you to imitate GPS movement from one location to another.
To set a new location, all you have to do is connect your iPhone to the computer. So why not get AimerLab MobiGo and try it out for free right now?