Raising a child in the 21st century is like walking on thin ice; putting every step one after the other while maintaining balance is the underlying challenge. Sounds like a hard nut to crack? Well, it is!
You can't hide your children in a room, away from mobiles and tabs. Neither can you shove them carelessly into the online world when you know that online predators, pornography, and other harmful content have invaded the internet.
So in a world where technology is the ruling king and harmful content is the enemy, where does the safe haven lie? No need to stress. We've got the answer it's all right here in today's guide. Read on and find out different methods that you can use to Block Adult Content and limit access to unwanted adult content.
How Can Adult Content Negatively Impact Kids?
Research has suggested that exposure to pornography at a young age can be the reason for:
Poor mental health
Sexism
Objectification
Increased sexual aggression
Interpersonal relationship problems
Among other risks, when children and young teens view pornography that portrays abusive and misogynistic acts, they see such behavior as normal and acceptable. And a majority of teens who had seen pornography have said they had been exposed to violent or aggressive forms of pornography.
This can cause issues of violence and mistrust to manifest at a later age when they become adults. Therefore, there is a definite need for censorship so that kids remain protected till they become mature enough to take it for what it is – mindless entertainment.
But talking about sensitive topics like pornography with our kids can be awkward and challenging. So why not opt for a safer approach? Blocking such content is a smart move to ensure they don't come across anything inappropriate.
With today's technology, there are plenty of tools and parental control options available that can help us create a safe online environment for our children. It's all about looking out for their well-being while navigating this digital world together. Let's discuss the 3 most commonly used techniques in more detail.
1. Using Web Browser Settings & Family Link
You can use safety search options to blur explicit photos and videos and completely hide search results from appearing on Google. This setting will be protected by email and password so only logged-in accounts can disable these results.
Go to https://www.google.com/.
Ensure you are logged into the account you want to enable Safe Search for.
Click Settings in the lower-right corner.
Click Search Settings in the pop-up menu.
Click the checkbox next to Turn on SafeSearch.
This is a great solution for protecting young kids from adult content but the problem arises when an older kid who happens to be tech-savvy finds an easy way to bypass this. For this, you can use Google's Family Link app. Here's how to use it:
i. Open Family Link and sign in with your Google account.
Sign in with your own Google account when you open the app on your own device. Don't use your child's email address for this step.
ii. Add or create your child's Google account.
If your child has a Google account, tap Yes and follow the on-screen instructions to connect it with your Family Link account. You'll need to have access to your child's device to complete this step.
If not, then press on No to create one now. Then, follow the instructions to add your child's new account to their device.
iii. Connect the child's device to your Family Link account.
Follow the on-screen instructions to complete the rest of the Family Link setup process.
It can take up to a quarter of an hour to link your child's device to the Family Link device. But
once their phone or tablet is linked, you can start blocking adult content.
iv. Block explicit websites on Chrome.
Once you have activated Family Link, blocking porn on the Google Chrome browser becomes easy:
In the Family Link app on your own device, select your child.
Press Controls > Content restrictions > Google Chrome.
Choose Try to block explicit sites.
If you want to block specific adult websites, you can add them to the Blocked list.
Do remember that these settings will only be applicable to Google Chrome and not other browsers. And if your child uses a different web browser, Family Link cannot block porn in that browser. You can, however, stop your kid from opening a different web browser to view porn using the following step.
v. Block app downloads in the Play Store.
To prevent your child from downloading other web browsers on their phone which you don't know about, you can use Family Link to add parental controls to your child's Play Store account. Here's how:
In the Family Link app, select your child.
Press Controls > Content Restrictions> Google Play.
Choose a type of content to filter, such as Apps & games, or Movies, and choose your desired content restriction level.
2. Use XNSPY
The next method that we have is XNSPY. It is known for its ability to block different apps on Android. XNSPY not only restricts your kids' smartphone usage but you can effectively spy on their phone to see what apps and websites they use. It is ideal for those who prefer more stringent controls than those provided by the above two methods.
XNSPY provides a smooth intervention and remote tracking experience along with compatibility with a majority of cell phones available on the market. The fact that it is compatible with the latest and oldest Android and iOS devices is a major plus.
Also unlike Google Family Link, it is available in all countries. It offers an easy user experience because of its quick installation and simple user interface.
Now let's discuss the XNSPY features that can help in monitoring and restricting adult content on your kids' phones.
Screen Time Viewer
XNSPY allows you to view precisely how much time your kids spend browsing the internet and other apps to control excessive usage. This way, you get precise insights into your kids' app activities to get a better insight to regulate screen time.
With the visibility into the amount of time dedicated to surfing the Internet and other apps, parents can set appropriate limits, encourage healthy device usage, and ensure their children strike a balance between online and offline activities and don't view adult content.
Block Installed Apps
XNSPY also offers an app blockage feature. So if you don't want your kids' interaction with adult content at all, this app can be your savior!
Go to the 'Installed Apps' section and select the app you want to block, in this case, it will be any adult app or adult video game app. And XNSPY will automatically block that app from your kids' phones.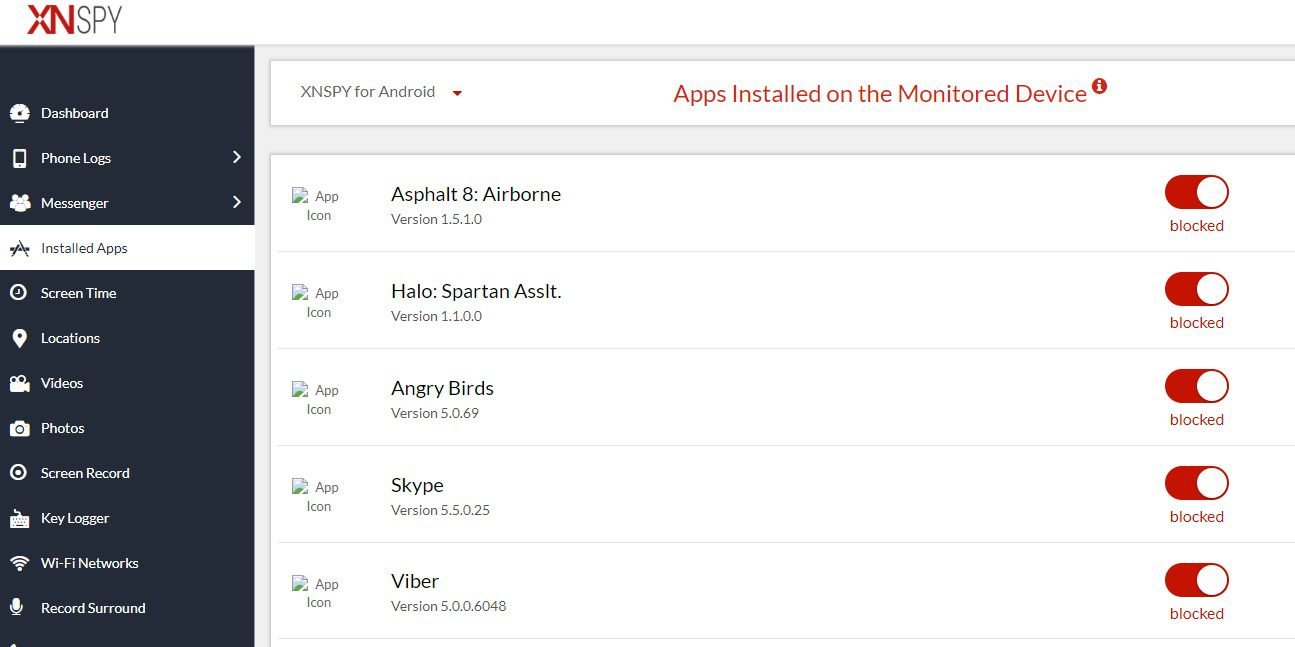 How To Install XNSPY To Use These Features?
XNSPY makes it easier to spy on your kids' phones to block all adult content. You only need to perform the following to install and use it on the smartphone of your choice:
i. Register with XNSPY
Select an XNSPY subscription plan, then register with your email.
ii. Install XNSPY
Install the target device's XNSPY monitoring application APK and allow it to sync with the target device.
iii. Begin Monitoring
Once the app and the gadget are in sync, you can begin tracking and using the app to block different apps on Android.
iv. Access your Dashboard
The cell phone monitoring software's functions will all be shown on the dashboard. You can log into your account at any moment using any web browser as XNSPY is compatible and runs smoothly on all.
How To Use XNSPY Screen Recording?
Select Screen Record after logging into your account, after installing the app. All of the screenshots of the adult websites and apps are available for you to see so you can take the appropriate measures. These screenshots are taken by XNSPY automatically after every 5 seconds.
How To Block Adult Content Using Installed Apps Feature?
As soon as XNSPY is installed, sign into your account and choose Installed Apps from the option on the left. All of the phone's installed apps will be displayed.
Choose the apps you want to uninstall from this list, then toggle the button next to it.
The app will be remotely disabled from the user's phone by following these simple steps.
3. Using Router Blacklists
In this method, we can manually blacklist the IP addresses of websites by accessing the control panel of your router. Every modern router has a built-in option for filtering any website whose IP address you enter.
This is a quick way to disable any website you deem inappropriate but needs a bit of technical know-how in order to proceed.
i. Enter the IP address of your router in the address bar of your web browser.
The IP address of your router must be entered in your web browser as the first step. Usually, a label on the back of your router device will provide this information. You will enter this URL to access the router's settings.
ii. Enter the router's settings.
You must log in to your router's settings after entering the IP address of your router. You can modify your router's settings here, including the websites you want to block.
In the router's settings, locate the website blocking option. Most routers come with this function by default.
iii. Enter the URLs of the websites you want to block.
Now enter the websites you wish to ban. You can either enter a particular website address or it can be an entire group.
iv. Restart your router after saving your changes.
Be sure to save your changes and restart your router after entering the URLs. By doing this, the modifications will be made permanent.
Save Your Kids Before It Is Too Late
Now you know what to do if you want to save your children from getting trapped into the vicious cycle of watching adult content that starts with curiosity and later turns into an addiction. Try out these proven methods that are not only the need of the time but also essential to keep your kids' sanity intact.
Tell us if we missed anything or share any story that relates to it. Let's make parenting less hassle for each other – it is difficult but together, we can make things better.