Our smartphones are no longer just communication tools; they've moved to another level of importance. Now, they are cornerstones for running our daily lives smoothly. Regardless of what you do, your smartphone can be an accessory for your business, your plug to the world, and sometimes your means of escape from the noisy world around. Those are some of the reasons why we always want our devices on us and fully charged.
As it turns out, there are two ways to keep your device charged: 1. Stay connected to a power outlet always 2. Carry your power unit, and a power bank everywhere you go. The second option is more feasible and convenient. You don't have to hustle for a power outlet everywhere you go, keep an eye on your phone or always ask for permission to unplug and charge your phone.
Anyway, if you are reading this article, you're probably in search of a power bank that can charge your smartphone whenever you are far from a power source, briefly or for days. Considering the number of brands out there, you are definitely spoilt for choice, which may make your decision difficult. Not to worry, this piece reviews some of the essential qualities of a good power bank using our current editor's choice, Crave Plus Pro Portable power bank, as an example.
Our team received the Crave Plus Pro power bank over a month ago. The manufacturer touted it as the best power bank on the market, with an unbeatable warranty to boot. Well, we've tested it for several weeks and decided to write a guide/review to purchase quality power banks like Crave Plus Pro. Read on.
Qualities of a good power bank
When shopping for a power bank, the first detail you consider is the capacity as it relates to your phone. For example, if you have a smartphone with a battery capacity of 3,800mAh. You would need a power bank with a minimum capacity of 5,000 mAh to charge your phone from 0% – full charge. With that in mind, a higher capacity power bank of 20,000mAh should charge your device 4-5 times.
In terms of the capacity of a power bank, bigger is always better, and the Crave Plus Pro Portable power bank checks this box. It is designed with a solid 20,000mAh battery that opens up through three Dual 3.0 Quick Charge USB ports. Like every quality power bank we've used, Crave Plus Pro doesn't drain quickly. You can comfortably use the power bank as your primary source of power for your smartphone for three days.
Mind you, your smartphone and power bank drain due to the intensity of use. So if you are a heavy user, you can expect to recharge more often.
That said, the Crave Plus Pro power bank can charge laptops as well. Awesome, isn't it? The device has a dedicated port for laptops. However, you would need to use a USB with female ports on both ends to connect the power bank and laptop. With a computer connected, the Crave Plus Pro drains faster than it does when charging a mobile device. The reason is quite apparent. Laptops are not as energy efficient as smartphones. If you own one of the energy-saving laptops, your power bank may have a longer life span.
Portability is an essential feature to look out for in a power bank. You don't want an accessory that weighs a ton and slows down your movement. Technology has made it possible to build powerful batteries into miniature containers. So brands with such tech, offer portable products. However, if a power bank is too light and has a high capacity (20,000 mAh or more), that may not be a good sign. Its weight should be at least relative to its size.
That said, the Crave Plus Pro meets the portability criterion. The power bank weighs 1.38 lbs, which is not so heavy that it becomes a burden to carry. The weight of the device is distributed across its long rectangular body.
Owning a power bank that adds to your style doesn't hurt. On this note, the design is a vital power bank feature. Power banks with great designs are cased with drop-resistant materials that have a stylish finish. The premium power banks have stainless steel covering and a simple color finish. You would feel the quality of the build when you grip the device. It doesn't slide over your palm, and it doesn't emit heat.
Again, the Crave Plus Pro meets the design standard. The device has a stainless steel cover with a stylish finish. The design uses contrast coloring to differentiate the parts of the power bank. The main body is dark ash, while the edges with ports are finished with light ash paint. There are a number of inscriptions on the device as well.
The charging ports are as important as the capacity of a power bank. So when shopping for a high-quality power bank for your smartphone, always check the port specifications. The best USB ports are Quick Charge USB ports. These ports discharge current quickly, which makes charging faster.
The Crave Plus Pro sports dual 3.0 quick charge USB ports that can charge your devices more rapidly with less downtime. The power bank has different ports for each generation of USB ports, Type B, and Type C ports. So you can charge your type-C devices with these ports.
One of the common risks of using rechargeable devices is an explosion due to power surges or overcharge. Good power banks have built-in surge protectors that protect the device from an electrical surge. This is an essential safety feature and shouldn't be taken lightly.
We were pleased to see that the Crave Plus Pro portable power bank has power surge protection. With this feature, you can rest easy that your device won't overcharge or suddenly burst into flames when the electricity fluctuates.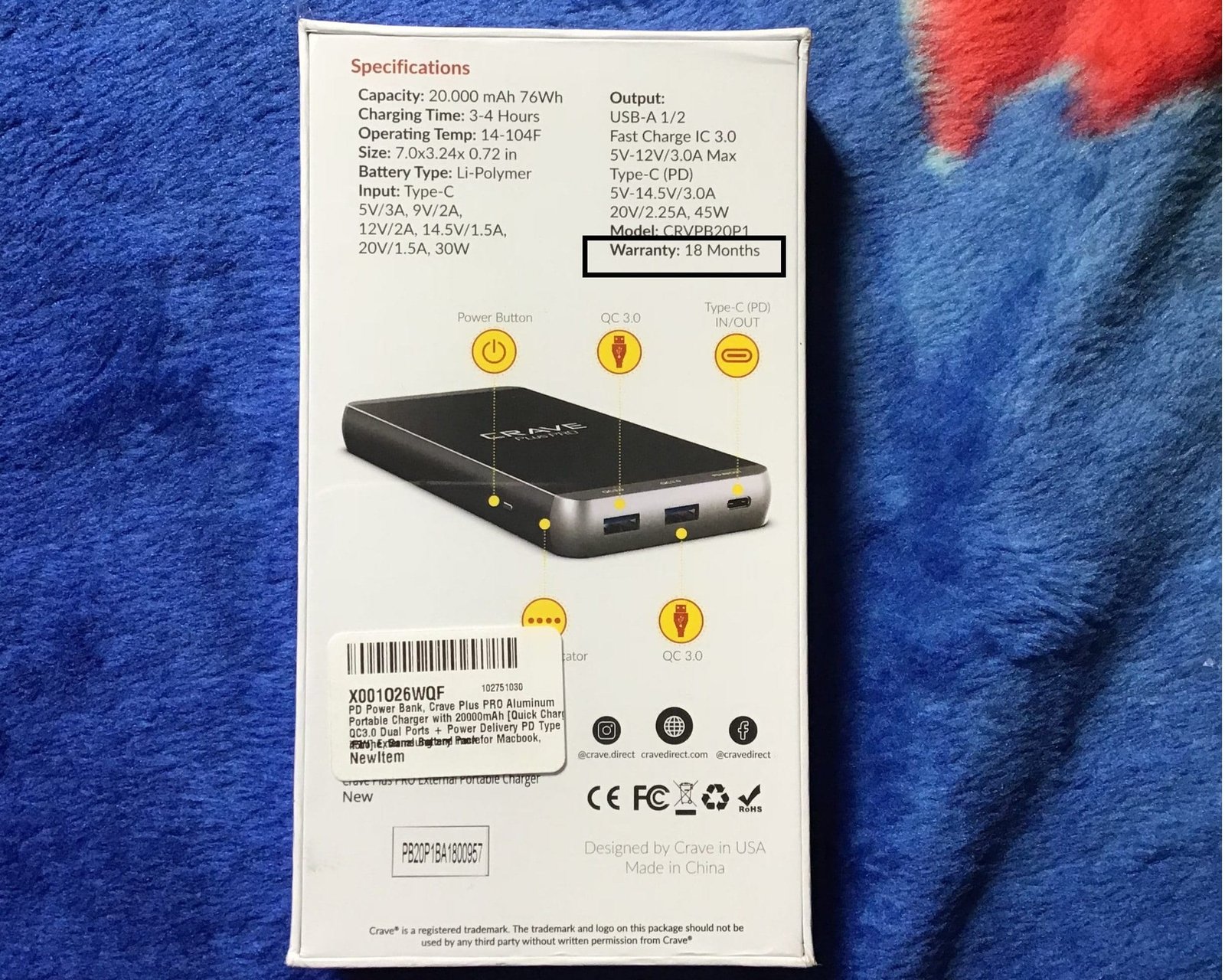 Warranty is not a standard feature that comes with power banks. So it is safe to say that only brands that are confident of their product quality offer a warranty. A warranty can range from 30 days use to a month or 2 years. Usually, other conditions are attached to ensure that consumers don't exploit the offer.
As you must have expected, Crave Plus Pro comes with a warranty. The company offers an 18 Months money-back guarantee if the power bank doesn't serve as expected. Although we did not make use of the warranty because we had no issues with our test unit (it was a gift too), the warranty boosted our confidence in the product. For $99.99, you can get a unit from cravedirect.com. Orders within the United States are delivered for free, while international purchase comes with a delivery charge.
Conclusion
Purchasing electronics is always tricky, but you can always buy the best with the right information. If you agree with the qualities of a good power bank listed in this article, you should look no further and purchase the Crave Plus Pro portable power bank. Otherwise, use the qualities discussed as a guideline to buy a high-quality power bank.
Note: If you need a durable product, you must be willing to spend above $90. Crave Plus Pro is among the best options you will find in its price class, and it is backed by a warranty.