All businesses seek to sell their products and services and grow their clientele and revenue consistently. But in order to do so, they must use their limited time and resources wisely.
Lead qualification is a perpetual challenge for growing businesses because they tend to invest a lot of their marketing and sales efforts into leads. Every lead is a risk because there is no way of knowing if the lead is going to be a conversion or a flop.
In order to maximize efficiency, businesses must figure out a way to separate the wheat from the chaff without too much manual effort.
Before AI conversational tools, most businesses followed a traditional lead scoring system. They would advertise to any and all sorts of leads and hope that they'd find a customer who was hesitating about buying in order to help them cross the finish line. However, this method was not scalable because most businesses do not have the time, money, or sales manpower to accomplish all that would be expected of them.
Sales and marketing teams would be flooded with potential meetings, and worst of all, they'd have to manually book schedules with leads themselves. This opens the doors for more chances of human error, and the process was chaotic and inefficient.
Enter AI sales assistants. Businesses started finding automated solutions to take care of repetitive and monotonous tasks so that their sales and marketing teams could focus on high-impact activities for the business.
These AI sales assistants could do what a human sales assistant could, except now they were accessible for customers 24/7 (without overtime!). They were designed to answer FAQs from leads, determine the quality of leads, schedule meetings, and pass the conversations with leads over to your sales reps seamlessly.
For growing businesses who are having trouble handling lead inquiries and scheduling meetings, Exceed.ai and Conversica may be of great use to them. While they are both conversational AI sales assistants designed to automate important but repetitive tasks, they have different functionalities that may be well suited to solve specific business needs. In order to know what is right for your business, it will be good to research the differences and see which service suits your needs.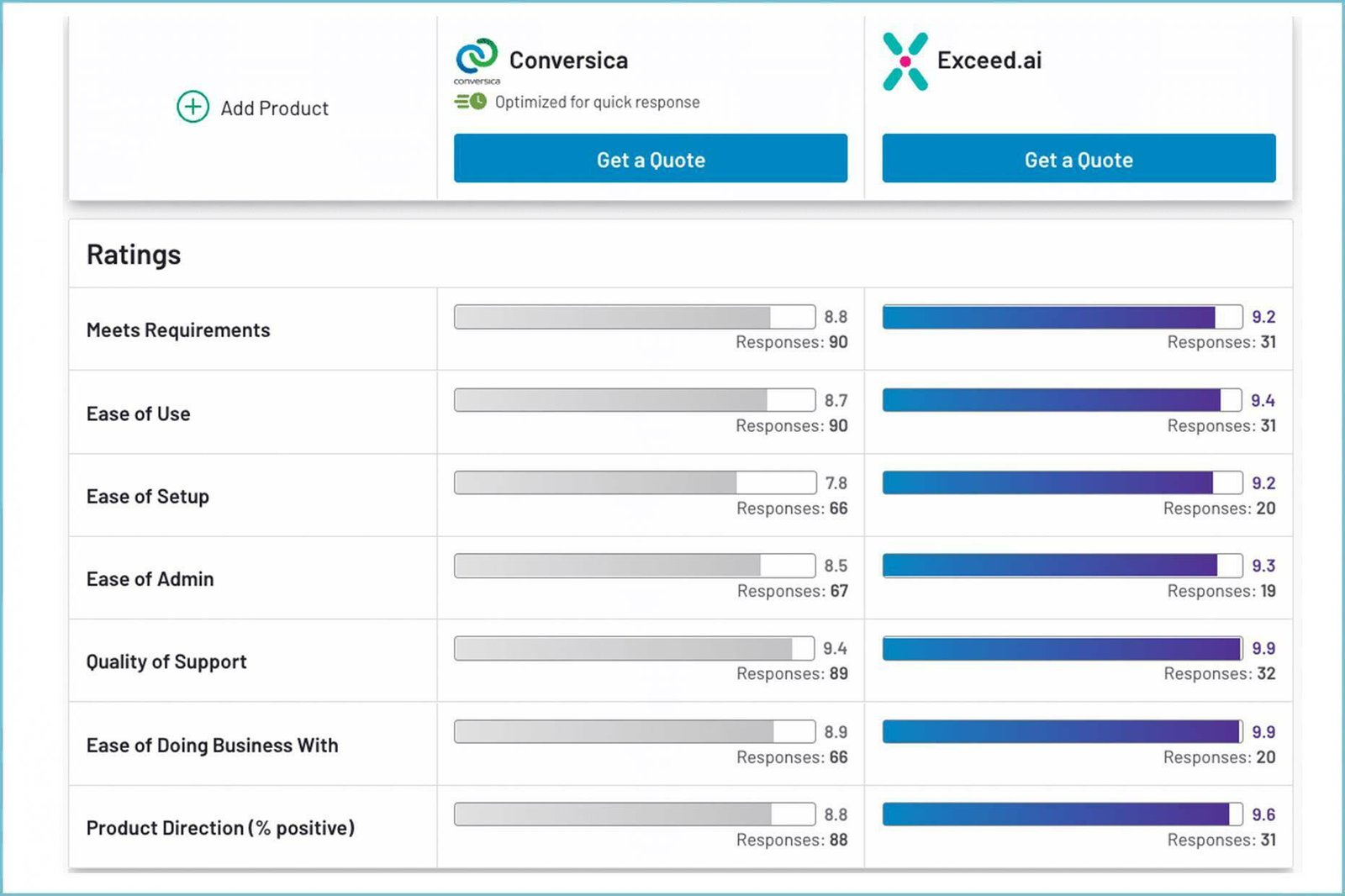 Source: https://www.g2.com/compare/conversica-vs-exceed-ai
What Are They Capable Of?
Exceed.ai and Conversica were both created to assist sales and marketing teams with administrative tasks. They're able to handle initial inquiries from curious leads through chatbots, and both are programmed with natural language processing, which allows them to carry natural, human-like conversations with leads.
They can handle answering frequently asked questions and are even able to ask clarifying questions to understand their lead's specific needs. In a recent study, business managers reported seeing an average increase of 67% in sales after they set up chatbots.
Engaging Conversations with Chatbots and SMS
While Exceed.ai and Conversica both offer chatbot and SMS functionalities, they were designed to solve two different business needs. Conversica's chatbot is able to engage with leads through traditional button options or preset text. This option may be good for people who want to get simple and quick answers to their questions.
However, the chatbot is not able to respond outside of its programming, which may feel cold and impersonal to people engaging with it.
Exceed.ai's chatbot has a more sophisticated and natural feel. The chatbot is able to engage with leads in a friendly manner by asking engaging questions and answering complex inquiries easily without the help of sales reps. It is also able to identify the quality of the lead in order to determine whether they should be passed onto the sales team.
Whoever talks to the chatbot will feel as if they're talking to a real sales assistant, and the process from initial inquiry to meeting with a sales rep will seem impeccable. With Exceed.ai's chatbot, no questions will go unanswered and every qualified lead will have the opportunity to meet with a live sales rep.
Never Book A Meeting Yourself Ever Again
While both Exceed.ai and Conversica have automated scheduling built into their tools, their capabilities are very different.
Exceed.ai boasts built-in scheduling tools, which are very easy and helpful for sales teams to access when they need to check their meetings with leads.
Conversica does not have as seamless of a transition since they rely on integrating third-party tools.
With more tools to learn and navigate for the members of the sales team, there is more chance of miscommunication and human error that could jeopardize important conversations.
Are Customized Emails Important For You?
A recent study showed that 74% of marketers believe targeted messages and email personalizations enhance customer engagement rates. While some businesses choose to continue sending generic emails, the general trend seems to be that generic emails are increasingly ignored and deleted.
People don't want to be seen as just a pile of money – businesses who take this into account when marketing to them will have a better chance of acquiring their patronage from those who do not.
However, this does not mean all businesses need to find ways to customize their emails. For businesses that do not have a long sales cycle and have customers who are indifferent about personalized emails, Conversica may be the right solution for them. They provide basic email templates and do not provide many email customization options.
For businesses that care a lot about customizable emails and have a customer base who do care about personalization, Exceed.ai will be the best solution for them. Exceed's AI email assistant is able to ask qualifying questions, access custom playbooks for the sales team, and integrate well with the chatbot.
Exceed also has the ability to follow up with leads who happen to be out of office so that no potential lead falls through the cracks. It is a simple yet powerful tool for businesses who are looking to harness the power of personalized emails and get creative with them.
Determining Which Tool Is Right For Your Business
Exceed.ai and Conversica both aim to help businesses improve their lead qualification processes with their automated sales assistants. However, they provide different capabilities, which serve different kinds of businesses and their specific needs. It is important to understand the strengths and weaknesses of both tools, and then determine which tool will best serve your business.
If you want a simple and practical solution and don't want to bother with any email customizations, Conversica may be right for you. If you want to utilize a sophisticated chatbot with seamless scheduling and handoffs to sales teams or have the flexibility of customization for email campaigns, Exceed.ai will be a great solution for you.
Here are some customer reviews about Exceed.ai on G2.