Revive your videos in a breeze with Stellar Repair for Video. Don't let corruption ruin your playback – this tool is your ticket to hassle-free video recovery. Grab Stellar Repair for Video today for smooth and glitch-free viewing
There are times when you want to watch a video on your computer, but find out you can't. It can be extremely disheartening when rather than the desired outcome, you see a playback error. The cause of this issue is due to the fact that the footage has been broken or damaged.
When video files become damaged, it is impossible to play them unless the corruption is fixed using trusted software. There are several reasons why video corruption happens. Some of these reasons include:
A malfunctioning player may corrupt a video.
Video recording or downloading server error.
Power outage during video download.
When the system on which the video is stored is physically damaged.
Operating system failure.
Taking out a memory card the wrong way.
Your device or video could have been targeted by Trojans.
There is a simple way to fix a damaged video file and restore its playability if you are not willing to permanently lose priceless clips from your collection. Stellar Repair for Video is a trusted tool you can use.
A Brief Description of Stellar Repair for Video
Stellar Repair for Video is a strong tool that can fix broken or corrupt video files in AVI, MOV, MP4, and other forms. Stellar, a data recovery and repair expert, created it. The primary advantage of this software is that it can fix various kinds of files. In addition to fixing the video file, this tool uses intricate algorithms to repair videos without degrading their quality. In fact, it solves typical video file issues like contrast, blurriness, etc.
The app also lets users preview repaired videos before saving, guaranteeing the best possible results. It also has choices for modifying the export settings, so users can change the size, quality, and format of the video.
Stellar Video Repair Is the #1 Choice Because…
MP4, MOV, AVI, MKV, FLV, WEBM, MPEG, F4V, MTS, MJPEG, and many more video file types are all supported by the program.
Stellar Repair for Video's user interface is basic as well as simple to use, making it ideal for users of all varying levels of skill, ranging from beginners to experts.
It provides thorough video repair services for users of both Windows and Mac operating systems.
Preview the corrected video before saving it.
It repairs corrupt headers and data of video and video files.
It tackles prevalent issues faced in video files, including but not limited to blurriness, undesirable noise disturbances, and inadequate contrast.
This software allows a quick repair of 4K, 8K, 360-degree, virtual reality, and high-definition videos.
It repairs video footage taken using different devices like Smartphones, CCTVs, Drones, etc.
Downloading Stellar Repair for Video is completely safe.
How to Fix Corrupt Videos with Stellar Repair for Video
First Step:
Get and install Stellar Repair for Video.
Second Step:
After the software has been installed, open it. On the web page, you will see "Add File"; click it. Search for the broken or damaged file next.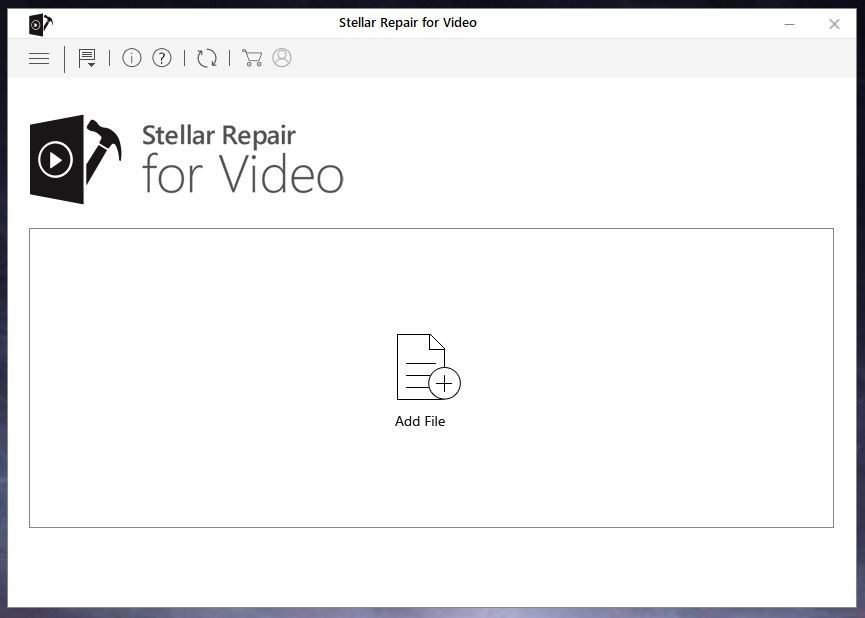 Third Step:
Once you have added all the broken video files you wish, just tap on the "Repair" button.
Patiently hold on till "Repair process completed" pops up on your screen.
Fourth Step:
Select "Save Repaired Files" after previewing and then save in your preferred location.
Cost
You can download the free version of Stellar Repair for video to try it out. It can repair 20% of the video file size without a premium license.
Stellar has three pricing categories:
Standard: The £44.99 Standard package offers basic tasks of fixing broken or damaged videos without size limits.
Professional: The Professional edition repairs corrupted photographs and also contains everything from the Standard. This level will cost you £54.99.
Premium: This version features everything from the previous two. Recovering photographs, audio, and videos that have been erased accidentally is one of the many benefits. It costs £74.99.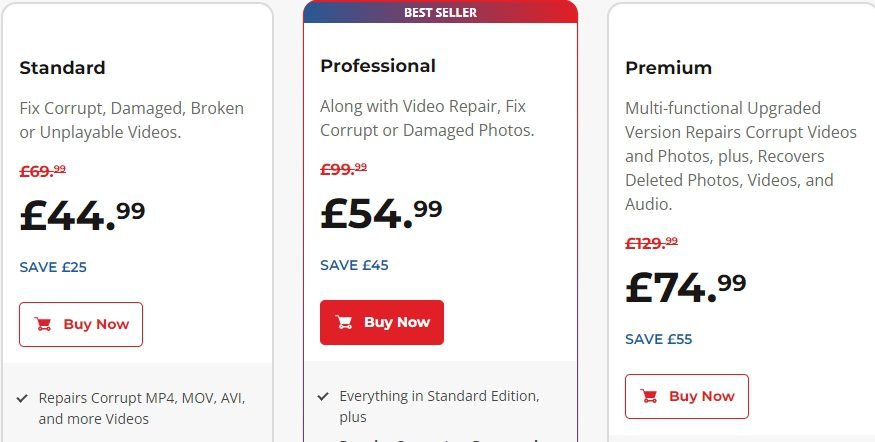 To Sum Up
Stellar Repair for Video is one of the top video repair software and its cost is considered to be quite reasonable in relation to its high level of performance. The software's user-friendly layout and features make navigating easier. It's not hard at all. Stellar Repair for Video makes it effortless to revive your files. Give it a go!