Google has launched this year two new smartphones, Google Pixel 4 and Google Pixel 4 XL, both the same except for the size of its screen (5.7″ versus 6.3″) and, obviously, also the battery capacity.
By courtesy of Google, I have had the opportunity to thoroughly test Pixel 4, and here I bring you my in-depth analysis.
Google Pixel 4: Everything you need to know
Google Pixel 4 comes with a design that, in my opinion, is not very captivating since it has a large top frame. The reason for this large frame is the presence of a front camera, a 3D camera for facial recognition and a Soli radar to recognize gestures in the air.
The lower frame is narrower but, even with everything, it is somewhat thicker than other smartphones. The screen is completely flat, so the side frames are visible.
As a result, we are faced with a smartphone with a lower screen-to-body ratio than other high- end smartphones, around 80 percent.
If you look at the back, Google Pixel 4 has a glass finish with a large square camera module in one corner. This module looks large enough to house only two cameras and makes, when the phone is resting on a table, dance lightly when pressing on the screen.
The glossy finish on the back makes the footprints marked with some ease, although they are not too visible. Pixel 4 also available in black, white, and orange finishes.
Google Pixel 4 arrives with a 5.7″ OLED panel with a 19: 9 ratio, Full HD + resolution and support for HDR playback. One of its most outstanding features is its refresh rate at 90 Hz, which makes scrolling look more smooth, although it is not available in all apps and situations.
The screen covers 100% of the broad DCI-P3 range, commonly used in the film industry, and Google has incorporated a color mode that almost perfectly reflects the sRGB range, in case you want to see content as it was created.
The maximum brightness of the screen is quite limited (445 nits), especially when compared to smartphones such as the iPhone 11 Pro and the Samsung Galaxy Note10 + that move above 700 nits. The viewing angles are wide and the screen does not show a color tint when viewed from an angle.
Google offers the features Always Active Screen that permanently displays useful information on the screen, Ambient EQ that adjusts the color temperature to the ambient lighting (such as True Tone on the iPhone), and Night Light that reduces the emission of blue light.
Focusing on performance, Google Pixel 4 arrives with a Snapdragon 855 processor, the fastest in Qualcomm today without the Snapdragon 855 Plus variant, and 6 GB of LPDDR4x RAM.
Although other high-end smartphones incorporate more RAM, this is not a problem since it is more than enough.
In everyday life, Google Pixel 4 moves with great fluidity. Applications open quickly, the interface moves with smooth animations, and even demanding 3D games – such as Asphalt 9, PUBG, or Fortnite – unfold at high FPS rates without any problem.
Google Pixel 4 arrives with 64 or 128 GB of internal storage, which has been formatted as F2FS (instead of EXT4) and offers very fast read/write times.
Google has not included the possibility of expanding it using a micro-SD card, so my advice is to opt for the 128 GB version if you plan to take many pictures and videos, especially considering that Google no longer offers storage Unlimited in original quality in Google Photos.
The new facial recognition system works well and is able to unlock the phone quickly and reliably even in dark situations or if you wear glasses.
Since it uses 3D recognition, it is not possible to easily fool you with a photo or video although, surprisingly, it allows unlocking with your eyes closed. On the other hand, most third-party apps (for example, banks) still do not recognize this system and it is necessary to enter the PIN or password.
Google has incorporated in the Pixel 4 a Soli radar that allows you to identify when you approach the phone to prepare facial recognition and recognize gestures in the air to interact with the phone without touching it.
This functionality, called Motion Sense, allows you to discard calls, silence alarms, and pass songs when playing music by moving your hand in front of the phone. In my opinion, Motion Sense is more of a curiosity than something really useful, and also, for now, Google is not going to open it to developers.
Google Pixel 4 has a 2,800 mAh battery, which offers a fairly fair autonomy compared to other smartphones. In the day today, you can reach the end of the day with some battery remaining but if you use it intensively, you will have to charge at some time during the day.
Google Pixel 4 has a fast charging of 18W through the USB-PD 2.0 standard, capable of recharging 50% in half an hour, and Google has also incorporated fast wireless charging at 15W.
As expected, we found Android 10 at the factory, the latest version of Google's operating system. An advantage of being a Pixel phone is that you will receive updates from older versions of Android for at least three years.
Android 10 incorporates some important visual changes, such as the Dark Theme that affects the interface and the apps that are adapted. Since the screen is OLED, this mode also helps save battery since black pixels do not consume power on these panels.
Android 10 offers a gesture control system that, in my opinion, is not as comfortable as that of the iPhone and other manufacturers since, sometimes, the gesture of going to the home screen is confused with that of showing open apps.
Another novelty is an updated Smart Response function that suggests actions based on notifications.
Google Pixel 4 incorporates a new Subtitles functionality that shows a real-time voice-to-text transcription in any app.
This technology is the same that, in the new Recorder app, allows you to convert voice recordings to text and search for fragments of the recording.
Google continues to incorporate Active Edge that allows you to open Google Assistant by squeezing the side frames tightly, as well as silencing the phone when you receive a call or an alarm sounds. Unfortunately, Google does not allow you to customize the app that opens when you tighten the frames or configure actions within an app.
In the multimedia aspect, it is worth noting the presence of stereo speakers, although the second speaker is not on the front next to the USB-C connector. Google doesn't include a 3.5mm headphone jack or a USB-C adapter or headphones.
One of the aspects that Google cares most about Pixels is the camera. Google Pixel 4 releases a double rear camera consisting of a 12MP main camera with f / 1.7 aperture and a 16MP telephoto camera (approximately 1.8x) with f / 2.2 aperture.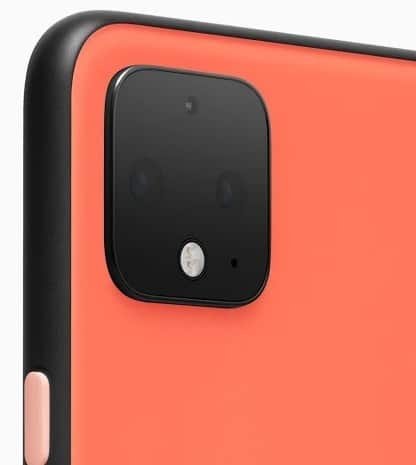 This configuration is somewhat behind other high-end smartphones that also include an ultra-wide-angle camera. Given the good result of the high-resolution zoom by Pixel 3 software, I would not have cared to see an ultra-angular camera instead of the telephoto camera.
The main camera is capable of taking excellent photographs although the results are not better than those achieved by certain high-end smartphones such as the iPhone 11 Pro or the Huawei Mate 30 Pro in difficult situations in low light.
As for the telephoto camera, it offers a 1.8x magnification and allows us to get closer to the details. Thanks to the high-resolution zoom processing software, the results are good even when we zoom in above.
The Portrait mode has been improved, thanks to the additional information provided by the second camera and is now able to better separate the subject from the background of the image. It is possible to modify the degree of blur afterward but Google does not offer studio lighting modes.
Like Pixel 3, Google offers a Better Shot mode that captures photographs before and after pressing the shutter button, and suggests a better shot if the one you've captured presents a problem. Now it is also able to identify the people who come out most in our photos to choose the shot in which he comes out smiling, with his eyes open, etc.
The Night Vision mode has also been improved and is now capable of capturing astrophotography shots, that is, long exposure sky shots compensating for the movement of the stars.
The front camera of the Pixel 4 has an 8 MP sensor with f / 2.0 aperture with a 90º wide-angle lens. This camera also incorporates a synthetic flash that illuminates the screen to add extra light and take better selfies in low light. The results obtained with this camera are good.
When recording video, Google Pixel 4 can record stereo sound and offers excellent stabilization results with both the rear camera and the front camera. However, the Pixel 4 camera cannot record 4K video at 60 FPS, which is a limitation compared to other high-end smartphones.
Google Pixel 4 is for sale for 777.00 dollars for the 64GB version, and 899.00 euros for the 128 GB variant. This is a tighter price than other high-end smartphones.
In conclusion, Google Pixel 4 is an excellent option for those looking for an original Android experience with quick updates and a good camera, but it presents some limitations compared to other high-end smartphones in certain sections.