From time to time, you find yourself up against a PDF document that requires some editing. Maybe the file contains outdated or incorrect information, or you simply want to add a few more lines of text to it. Whatever the reason may be, it turns out that PDF editing is not an easy task to achieve.
To edit PDF content, more often than not, you would have to download and use a dedicated PDF editor to make those changes. Needless to say, this can be quite a laborious process. On top of that, most of the PDF software is not free, so this can make the task look even more daunting.
The fact that it is complicated doesn't mean that it can't be done. There is an easy and totally free workaround. You can modify PDF text in a word processor such as Microsoft Word. But, you have to convert PDF to Word using a free online conversion tool first.
Free Online PDF to Word Converter
Free Online PDF to Word Converter is an online tool that converts PDF to Word (DOCX) files, as the name implies.
The best part about this tool, besides that it's free, is that it has no restrictions or limits.
Unlike some other online PDF conversion tools, this one doesn't have a conversion limit, nor does it insert annoying watermarks to your files. You can convert as many PDF files to Word as you want.
On top of that, the tool is anonymous. You don't have to sign up or leave any personal information such as an email address.
Converting PDF to DOCX
The conversion process is simple and blazing fast, it's over in a few seconds (depending on the file size, of course). Here's how to do it:
Upload the PDF (see image below)
As mentioned above, you can repeat the process as many times as you want. Also, the tool works nicely on mobile devices too, so you can even convert PDF to Word on the go.
Convert PDF to Excel, PowerPoint, and more
If you need to convert your PDF to a different file format such as Excel, PowerPoint, AutoCAD or even create a PDF from other file formats, you can do so using the free PDF tools listed in the section below the Free Online PDF to Word tool.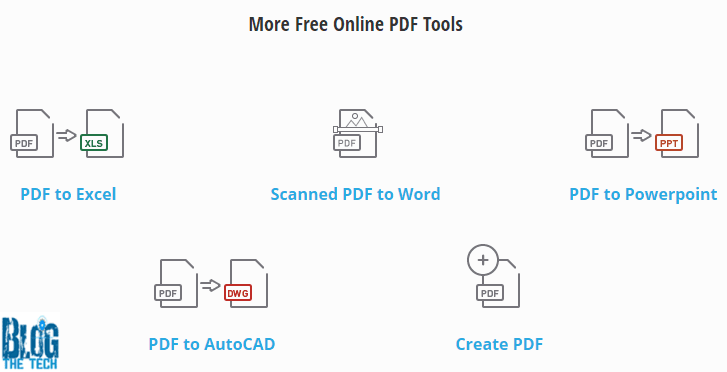 All tools work in the same manner: you simply upload the document and download the converted file. No strings attached.
To wrap it up, it doesn't get much better than this when it comes to free online PDF to Word tools. Remember to bookmark this freebie. It will come in handy the next time you have to convert a PDF to Word.
What's your experience with online PDF to Word converters? Any particular you use? Let us know in the comments below.