Sometimes, people wish they could keep track of their friends, family members, or partner's locations with or without their knowledge. Like parents who are sometimes worried about the safety of their children when they are out, they wish to know their location to ensure they are not in any danger.
Couples who distrust or suspect their partner is lying about their whereabouts wish they could track every movement their partner makes without them knowing. This can help them clear their doubts and to understand how to deal with the situation. Employers also want to keep track of their staff to ensure that there's no rotten egg.
Well, the truth is, you don't need to worry about how to keep track, as there are apps that offer this service and more for free. So if you're reading this article, be sure to read to the end to get every detail you need on the above subject matter.
How to Track someone's Location through their Phone?
One of the easiest ways to know a person's location is to track their phone using a phone locator app. But you have to take note of the fact that not all apps are effective or offer you precisely what you want. So instead, you should use apps with an in-built secret tracking mode.
Heard about Spyine? It is the best app to consider when you think of tracking a person's location secretly more conveniently and reliably.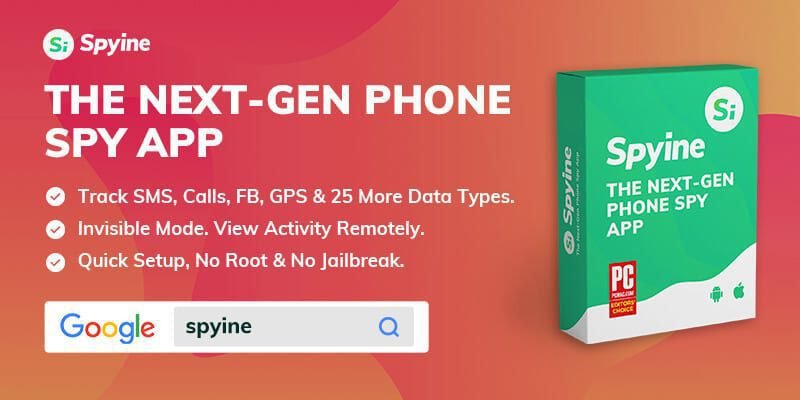 How does Spyine work?
Spyine is an online phone location detector and monitoring app that uses a GPS location tracking system to access the location of any tablet or smartphone. You can use it on both Android and iOS remotely from a web browser. It is a straightforward app to use. All you need to do is to follow these 3 simple steps.
Step 1: Sign up
To get started with this app, you have to sign up for a Spyine account using your email address to access a dashboard where all monitoring data will be received. Account registration is free. All you need to do after sign up is to buy any monthly subscription of your choice. Spyine has a payment option for both local and international users.
Step 2: Install the app.
You have to install the app on the target device to get it up and running. To do this, just follow the setup instructions on the page, or check the android setup installation guide if you need a detailed clue.
Remember to turn on the "allow installation from unknown sources" option from the target device. The installation process will take you only a few minutes to do. Like the real-time location, updates on-target activity will be communicated to you from the Spyine app installed.
Please note that installation of the app is done only on android devices. Spyine works on all android devices running OS 4.0 and upwards. For the ios, it is browser-based. You don't have to download or install the app. All you need is the linked iCloud credentials.
Step 3: Track phone location
Once you're done with registering and installing the app on your target device, the next thing is to set the wi-fi or GPS data in real-time off of the device. Your target device has to be connected to the internet before you can access or monitor it.
This way, data can be transmitted. After ensuring all these are done, you can then log into your dashboard and start monitoring. If you want to read someone's texts without their phone, you can do that from this guide.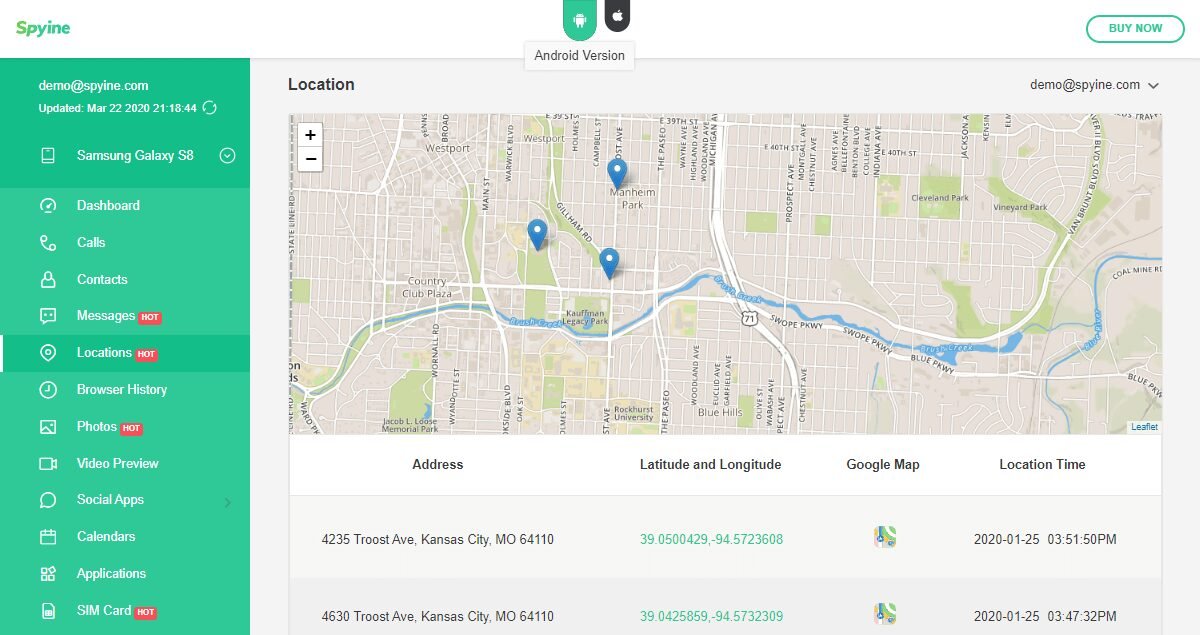 Why should you use Spyine?
To avoid using apps that are not reliable or do not have an effective stealth mode, you have to consider using Spyine. The following reasons are why you should use it.
No rooting or jailbreaking
You don't have to root or jailbreak your device before you can use the app to monitor their locations.
You can access your Spyine dashboard through any web browser of your choice. You don't have to install any app to use it.
All personal data information can only be viewed and accessed by the owner. Spyine does not share or view the owner's data. Ensure who checks the URL before registering. Take note of this to avoid enlisting in the wrong sites that claim to be spying.
The app has a solid and effective stealth mode and runs in the background of your target device without them knowing.
Spyine updates you regularly with your real-time target location and other activities. With it, you can monitor and keep an eye on anyone 24/7.
Signing up for an account with this app is free, and you don't have to pay to get registered.
Installation of the app in your target device is straightforward. It takes only a few minutes to download and install the app on any Android device.
Spyine services are not limited to tracking phone locations with the app. You can do other things like reading user's text messages, checking their sim location, social app messages, real-time location, and call history without their knowledge. You also have access to various app features from the selection panel.
With its geofencing feature, you can set boundaries on your target's device on the map and enable you to get notified once the device crosses these boundaries.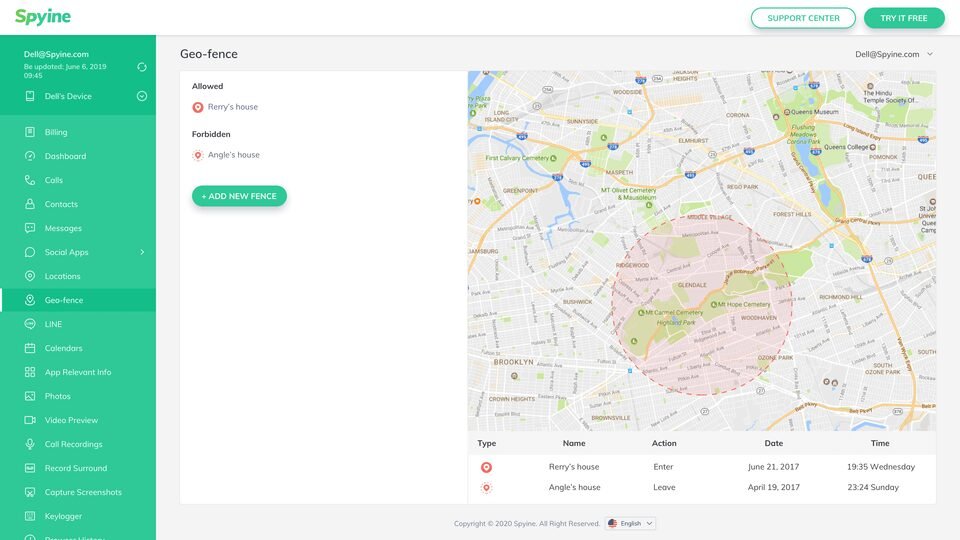 Conclusion
For so many reasons, we all, at some point in time, have wished we could track the location of our partners, friends, or family members without their knowledge, whether it's to be sure of their safety or to clear our doubts for suspicions.
Thanks to technology, it brought us the opportunity as there are many apps to assist us. Spyine has made our wish come true. With Spyine, we have our eyes on them, their location, and their online activities. and