Hello, and welcome to Today's tutorial on How to Unlock Huawei Smartphone Bootloader.
I have recently discussed how to root some Huawei smartphones such as Honor P9 Lite and some others.
We all know that flashing custom or stock rom on Huawei smartphone requires unlocking its bootloader.
Well, this method can only be applied to Huawei smartphone released before April 2018.
That's by the way lets work on How to Unlock Huawei Smartphone Bootloader.
For you to unlock Huawei's smartphone, you are going to be needing this.
Unlock Huawei Smartphone Prerequisite.
A PC (Windows Preferably)
Your Huawei smartphone.
Huawei Unlock Code.
A working USB Cord.
A Good Battery Backup.
A Windows CMD.
Having all this gives you a 100% chance of doing anything you want with your phone even installing a custom rom.
Huawei Phones needs you to create an account with Huawei before you can unlock your bootloader.
Follow this link in the section to create an account with Huawei developers so you can get your unlock code.
How to Unlock Huawei Smartphone Bootloader
Make sure you Backup all your Stuff.
Go to settings.
Check if there is any Developers option.
If there is none.
Go to the About phone section.
Consequently, Tap on Build number till you get Developers Option.
Go back and you will see developers Option.
Go to Developers Option before About Phone.
Click on it to enable it if it's not enabled.
If enabled, Disable and enable it again.
You will get a warning message. Accept it.
If your phone is a security code, you might be prompt to enter it and continue.
You will need to enable USB Debugging too.
Power off your phone.
Boot to Fastboot by pressing the volume up and power Button Simultaneously.
On your Windows PC Search bar, type CMD to locate CMD on your PC.
To know if your bootloader is unlocked or not, send

fastboot oem get-bootinfo

To make sure your device is connected, enter this command.

fastboot devices

If your phone is well connected and ready, it will tell you.
Follow this link to the Huawei site and log in.
If you don't have an account there, register and confirm your email.

Dial *#06# to get your IMEI.

Enter the code * # * # 1357946 # * # * through the dial pad to get your product ID.

Fill everything correctly and commit.
Huawei will send you a notification containing your Unlocking code.
You will be giving a 16digits code.
Go Fastboot and unlock your phone.
To Unlock your phone, send this command

fastboot oem unlock your unlock code

Wait for the progress bar to finish.
Your phone bootloader is now unlocked.
After unlocking your bootloader, you can reboot your phone and Enjoy.
Extras: Huawei released an update that from April onward, it will no longer support the Unlocking of the bootloader on its new smartphone but the old one can continue to unlock theirs.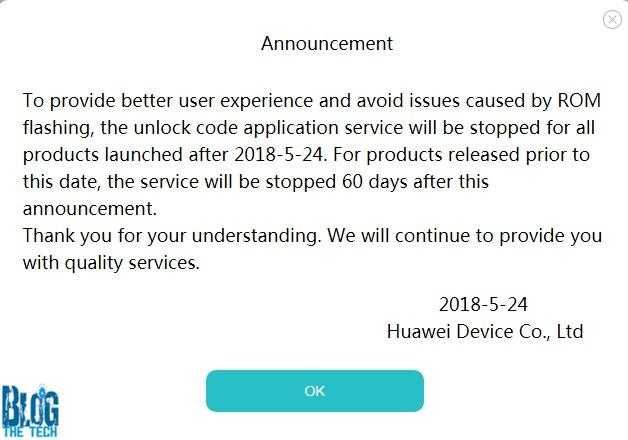 Please, if you experience any difficulties, do not hesitate in telling us.