Not all video content is created equal. Ready to find out what makes videos stand out? This article gives you pointers on how to maximize your potential for viral success!
"Viral", once a word that evoked fear and anxiety among people, has now been given a new and more positive meaning with the rise of the age of social media. What was then associated with the spread of infectious disease, has now been given new light in the internet and social media era.
Going viral means the rapid and widespread dissemination of online content. It entails gaining a huge amount of exposure mainly in online platforms. The virality of content allows content creators and marketers to influence viewers, whether it may be for the purpose of selling a product or introducing an idea.
While articles and memes have their own appeal, many creators love video content for its combined visual and audio elements and strong ability to influence and elicit emotions. Raw videos can be enhanced using an online video editor online free tools like CapCut to maximize their potential of becoming viral online content.
Elements of Viral Content
Captivating Thumbnail and Title
People often base their judgment on first impressions. Make your video's first impression count with an eye-catching thumbnail. Use one or more of CapCut's amazing professional tools to elevate your video thumbnail.
Try using the video background remover tool which easily removes your video's background without the hassle of trying to erase it frame-by-frame.
First, upload your video from your computer, or online storage like Dropbox, Google Drive, and the like.
Then, by simply sliding dragging the slider button under the "Remove Background" tab from left to right you can remove your video's background.
Edit the background to your liking by choosing a color, adding a photo, or a video.
Make your subject pop out by replacing the background with a contrasting color, image, or even another video. Accompany it with bold texts and colors, and an awesome title to boot to truly grab your audience's attention.
Attention-Grabbing Opening
Speaking of grabbing attention, the opening of your videos should catch their attention and hold it. Use CapCut's collection of bopping music tracks and a diverse selection of audio files to catch the audience's attention through your next viral video!
Just upload your video from your computer or online drive.
Drag and drop music and audio files from CapCut's library to your online workspace's audio timeline.
Adjust the audio parameters according to the video it will accompany or according to your preference. You can adjust the timing, speed, volume, and audio transitions. Get experimenting and have fun with it!
Optimal Length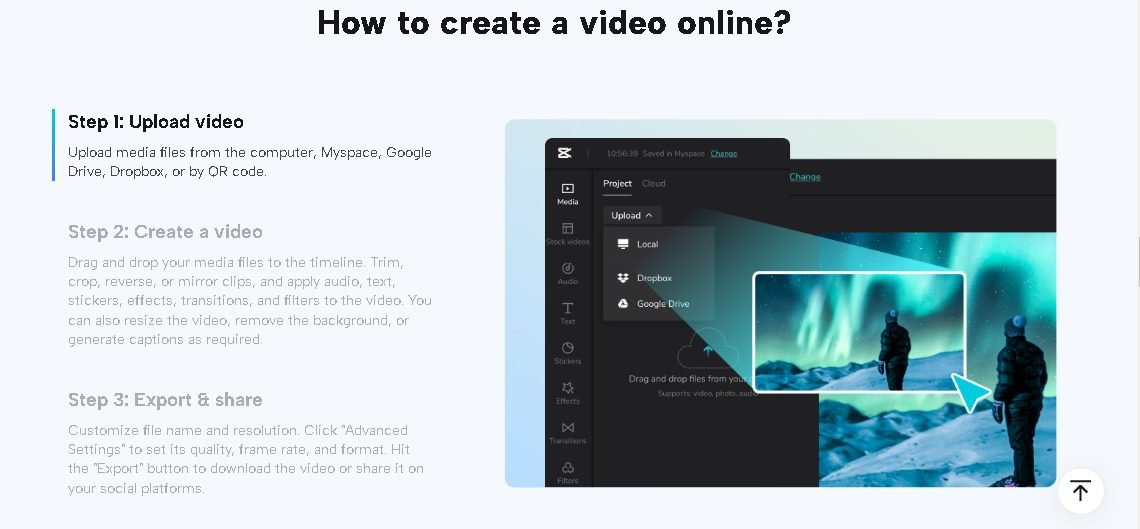 As the use of technology increases, people's attention span decreases. If you want to create a short reel for Facebook, Instagram, Youtube, or Tiktok it may be a good idea to keep it under a minute as shorter videos tend to hold the audience's attention till the end more compared to longer reels.
Trim out non-essential parts of the videos like pauses and dead air.
You may also opt to increase the video speed as long as the video message is still intact and understandable and the video does not look unintentionally ridiculous.
Remember to K.I.S.S. or Keep It Short and Simple. Long-form content is different but it is still best to limit clips that are not essential to the message.
You can also resize, crop, mirror, and reverse clips as needed.
Try out the different tools on your video to see what works best for the message you want to convey.
Professional Editing
Getting the anticipated cyber fame through viral video content may be more accessible now than you think. A high quality editing software for instance does not require you to invest a big amount of money. In fact, CapCut's online video editing tool is free to use and accessible to anyone who has a decent internet connection.
Professional edits created through CapCut can stand up against paid premium video editor software.
Moreover, the quality of the final video also greatly relies on the talent and expertise of those who produce the video. No amount of good editing can save a bad concept.
CapCut has all the professional templates and tools that are very modern and trendy while still being easy to use because of their sleek and straightforward user interface.
Conclusion
There is no exact science and no sure-fire way to make a video go viral but the tips mentioned in the article are a basic formula that increases the chance for your video to attain the popularity you want it to achieve. It is great that online video editing tools like CapCut are available to make achieving the goal of going viral more attainable.
CapCut has all the best tools for creating awe-inspiring viral videos, and the resource library for the coolest music, freshest filters, and amazing audio for embellishing their videos to their full potential and possible virality.