iOS devices are famous for offering hard-line security features, starting from the password or Face ID protected screen lock to Apple ID for accessing the iStore. These features are great but sometimes become a nightmare when they lock you out of your device because you forgot your lock screen Passcode. It is a hairpulling situation, to say the least.
If you ever find yourself in this situation, you can take the device to a technician who can jailbreak the device to remove the security restrictions. This approach could cause data loss, and it costs a pretty penny.
Alternatively, you can use PasscodeGo to unlock your iPhone without a password, delete Face ID and remove screentime Passcode.
PasscodeGo is a smart iPhone tool that allows you to remove the password or Face ID of your iPhone. You can use PasscodeGo on most of your iDevices, iPhone 13/12/11/XS/XR/X/8 (Pro Max/Pro/mini/Plus/SE), and other lower versions.
PasscodeGo takes several minutes to unlock your device, and the process is stress-free. You won't lose your Face ID or data when you bypass the Passcode of your iPhone.
How to use PasscodeGo to unlock an iPhone without a password or remove Face ID
Install PasscodeGo to Your Computer
Visit passcodego.com to download and purchase the software. The application requires a one-time purchase to work. Once set up, you can use it to recover your forgotten iPhone password or remove Face ID any time you want.
Note: The app has a minimal system requirement, but it is a requirement nonetheless. So you have to check your computer to be sure that it can run PasscodeGo.
System Requirements
Operating System: 32bit & 64bit Windows 7 or higher.
CPU: Intel or AMD 2GHz CPU or higher.
Memory and Free Space: 512 MB memory or higher; 10 MB free space or more.
Supported iOS Devices: Support iPhone 13/12/11/XS/XR/X/8 (Pro Max/Pro/mini/Plus/SE) and other lower versions.
How to Unlock iPhone Screen Lock Passcode
Step 1
Open PasscodeGo on your computer and select Unlock Lock Screen on the main dashboard to open the main page for launching the action.
Step 2
On this page, you will find the "start" button. Click on "start" to launch the unlock.
Step 3
Ensure that the cable is properly placed. Once the USB connection is secure, the app can recognize the attached device and download the firmware package.
If the PC doesn't recognize your device, put it in Recovery mode, and PasscodeGo will detect it. That said, ensure that your Find my iPhone feature is disabled. If this feature is not disabled, you may be asked to enter your Apple ID and Password after unlocking the device.
Step 4
Download firmware
The app will download a firmware suitable for the device in this step. You can choose the storage location of the firmware by selecting change. Once you've chosen a storage location, click "Download" to start the firmware download.
Depending on your network, it may take several minutes or hours to download the firmware package. Once the package download is complete, click on Unlock to start the unlock process. At this point, you have to keep the device still and wait for the process to be completed. The app will show a pop-up notification that the process is complete.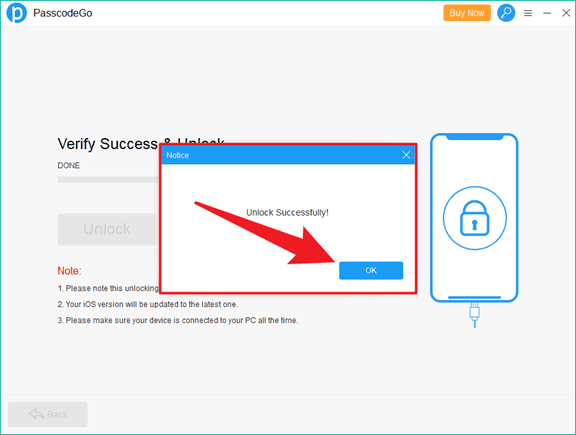 How to Delete iPhone Apple ID/iCloud Account
You need to turn off Find My iPhone through your device's settings for this feature to work. Also, you should install iTunes on your Windows.
Step 1: Assuming that you've downloaded and installed PasscodeGo, the first step is to launch the app on your computer.
Step 2: Connect your iPhone to the computer using a USB cable. If your iPhone shows a message to "trust device", tap trust.
Step 3: Select the Remove Apple ID feature on PasscodeGo to start the process. The app will open to a page that displays your device's information and important information about the process. It is vital that you do not disconnect your device during the process.
Step 4: Click on start to launch the ID removal. The app will ask you to reset all your settings. Follow the steps outlined to complete the action.
Once the settings have been reset, the Apple ID removal process will be completed in minutes.
How to Remove iPhone Screen Time Passcode
PasscodeGo also allows you to remove your iPhone screen time passcode in minutes. This process is smooth and risk-free.
To complete the process, you have to disable the Find My iPhone feature on your device and install iTunes on your computer.
Step 1: Launch app
Open PasscodeGo and select Remove Screen Time Passcode to open the device information page. On the device information page, you will see information on your device model and an action button to start the process.
Step 2: Removal in progress and completed
Clicking on the start button launches the Screen Time Passcode removal process. PasscodeGo will override the existing Screen Time Passcode in minutes and share a notification when the process is complete.
The best features of PasscodeGo
Ease of use – PasscodeGo has a simple interface, making it easy to operate. The app's features are well-defined, and you can access the features with the click of a button.
One-time fee – It costs $39.95 to use the premium features of PasscodeGo. If you're lucky, you can take advantage of our coupon code to purchase the app for $19.95 (click the link to visit the website. Tap the "Buy Now" button to go to the payment page.). This is a one-time fee and allows you to use the app for life.
Minimal system resource requirement: You don't need a high-end computing rig to run PasscodeGo, and the app is not a resource hog. That means you can unlock an iPhone without forgotten passcode with PasscodeGo while running other processes on your computer.
Conclusion
PasscodeGo is a handy tool for every iOS device owner. You never know when you will need to Unlock your iPhone without a passcode or remove Face ID. Whatever the case may be, it is best to have a tool you can rely on.