What do you do when you delete important files that have not been backed up?
How do you recover lost files on your computer?
Do you have an app to recover deleted files on your computer or external storage device?
Storage devices are never foolproof. This is a truth that experienced gadget users understand, especially when it comes to portable storage devices.
Whether it is a hard drive, flash drive, or the inbuilt storage on your primary computer, you can lose the information on it at any time. Your hard drive can corrupt, and you're forced to delete its content or format it unintentionally. In any case, you will lose the files on your storage device without back up or selecting the files which you're comfortable losing. Such a situation or similar ones create a problem.
To solve this problem, famous app maker, the creators of Filmora, Wondershare, developed.
Recoverit. BlogtheTech received a review unit full-featured app, and we've tried out the features in the past week. This blog discusses how to recover lost photos and files with Wondershare Recoverit – Read on.
How to install Recoverit on your computer
Installation
The installation process is easy and straightforward. Visit recoverit.wondershare.com to download the app to your computer. The software is available to macOS and Windows users. You may have to run two desktops to use the apps if you use a Linux operating system. That said, the app installation follows the standard procedure of installing apps, choose a storage folder, give permission to write to your disk, and launch when installation is complete.
After installing the app, you're required to log in. That means you have to sign up as a first-time user to use the app's features. Once the registration and sign-in are complete, you can start using the app's features.
Before we discuss how to recover lost files with Recoverit, you should note that the app works best when you haven't written data over the lost data. That means it is best to recover lost files immediately after you notice that they are missing. Don't use the storage device to save other files or multiple files before recovering the previously lost file. If you write over the lost data by saving other files, you may not recover the lost data.
Step 1: Connect the storage device you want to salvage to your computer. Once the external storage is plugged into your device, Recoverit will read the external storage and display the capacity.
If you want to recover files on your primary storage, you don't need to plug in external storage. The app will display the available onboard storage immediately it synchronizes with your computer.
Step 2: I used an external flash drive to test the app's capability for this review. That means I had to plug in the flash drive for the app to read the information. After a few seconds of synchronization, the app displayed the deleted data on the flash drive. I could see the files I deleted from the flash drive earlier, which was impressive.
Step 3: Choose the files to recover by selecting them and clicking recover. The app allows users to preview documents that are less than 30MB. This way, you can check the content of the file before recovery.
Documents or files that are higher than 30MB will be recovered before you can verify their content. Anyways, if your files are correctly named, you shouldn't have trouble choosing and recovering specific files.
After selecting the file(s) you want, click recover, and the app opens to a window displaying locations to store the recovered document. It is recommended to store the recovered information on a separate disk. In this case, I saved the files recovered from my flash drive to my local disk (primary storage on my laptop).
When you choose the storage location, the app automatically creates a folder using "the app's name and recovery date" as the folder title. The recovered information is stored in the folder, and you can access it easily.
For convenience, I recommend recovering all your files once to avoid creating multiple folders for different information. This way, you can have your info in one location.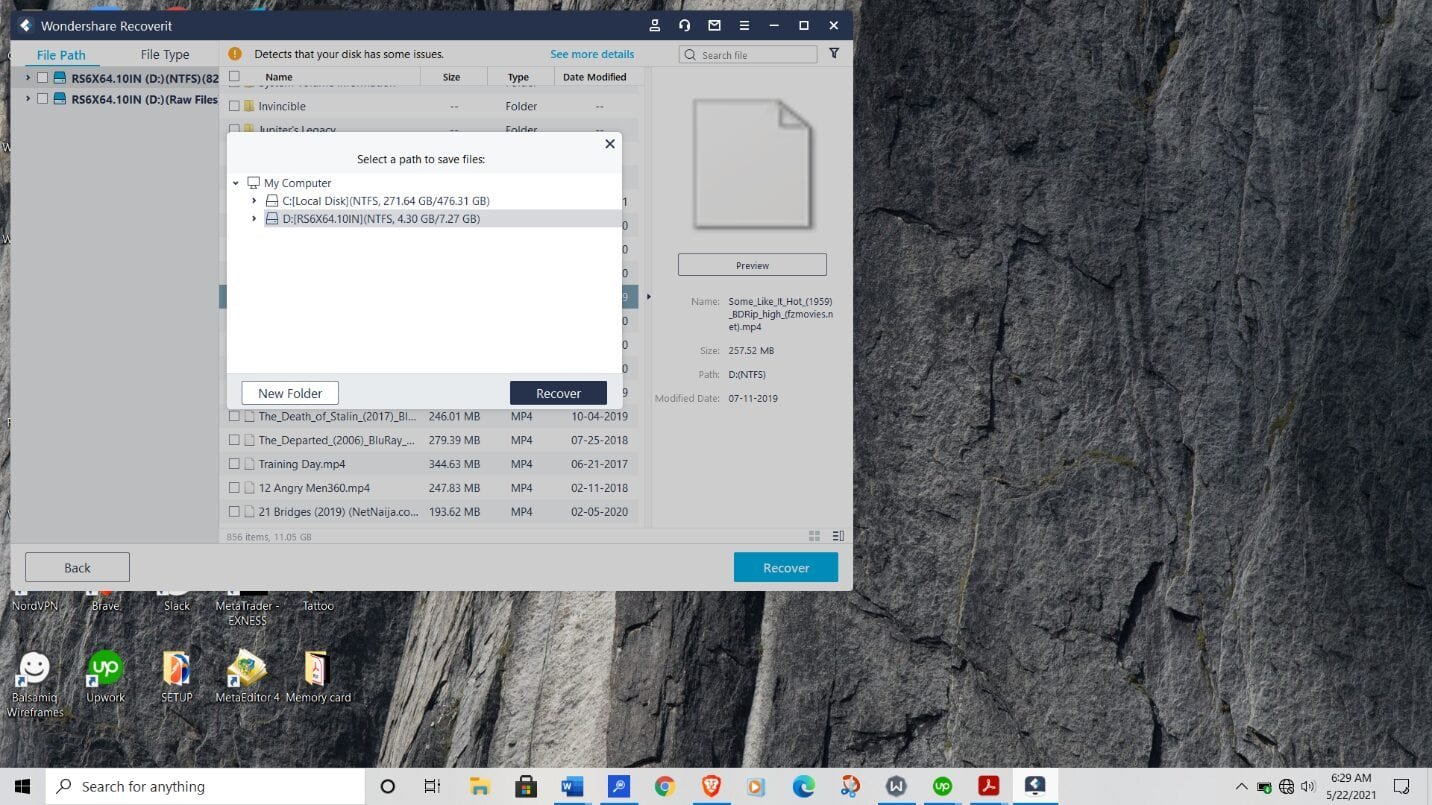 Advanced recovery features and Disk Tools
Disk Management: Wondershare equipped "Recoverit" with a disk management feature. This feature allows you to perform a disk cleanup, refresh or rescan the disk with the click of a button.
Video repair: This feature allows you to repair a corrupt video file. It is a standard media tool that can save you the headache of playing a broken media file.
Computer crash recovery: You don't pray for this situation, but you should be ready to recover your files if it occurs. Recoverit can help in such a situation. Simply install the app on the affected computer and engage the "recover from crash" feature to recover the files on the crashed computer.
Advanced video recovery: As the name implies, this feature is designed to recover severely damaged videos.
Conclusion 
I found Recoverit to be a handy tool. There is no saying when you will need the app (Recoverit) to recover your lost files, but you can always utilize the disk management feature to maintain your storage device's health. And whenever you need to use the app to recover a lost photo or file, you can be confident that you will get them back.
The best part is that Recoverit is available at different affordable prices for three categories of users. Individuals, Team & Business, and Students & Teachers are the 3 categories. The student & teacher category is the most discounted; however, it offers a limited capability. For example, you can only install the app on one PC.
If you need to protect more than one computer, consider the Team & Business package. For $169.95 per year, you can protect up to 5 devices. There is an option to bargain special pricing if you need the app for a larger team or number of PCs.