In this modern age, camera technology has become so advanced that people are becoming addicted to it.
But imagine you took a whole bunch of breathtaking photos, and when you insert your SD Card into a computer, they are all gone.
Wouldn't that be a disaster?
No matter the reason, when someone experiences this situation, they always look for effective ways to recover those important pictures.
And that's exactly why we are here for!!!
In this article, we'll give you a foolproof method to recover permanently deleted photos from your SD card or any other external storage device.
Let's look at some of the reasons first that may cause you to lose your photos. And then, we'll move on to how you can get them back with a top-class data recovery tool, Wondershare Recoverit.
Reasons for Photo Deletion from SD Card
There are multiple reasons that can be the culprit behind photo deletion, but most of the time, it is due to accidental deletion, formatting, or external damage to your hard drive. Other than that, the corruption of a memory card by some software bug or virus can also cause it to lose images stored in it.
Nevertheless, if you have also deleted your images, then there's a way to recover them. And it's not even a little bit difficult if you are using the right tool.
The most reliable tool we recommend to get back your deleted pictures from any memory card is Wondershare Recoverit.
It's time to move forward and see how to recover permanently deleted photos with Recoverit.
How to Recover Deleted Photos from SD Cards with Recoverit
Before we dive into our how-to steps, let's briefly overview what Wondershare Recoverit is.
Wondershare Recoverit is a specialized data recovery tool that boasts of having a 95% recovery rate. Not only that, it has a user base of Billions and is 100% reliable and safe for use.
With Wondershare Recoverit, you can not only recover photos, but it also supports recovering 1000+ file formats without losing their quality. Especially its advanced video recovery has made it popular all around the world.
And if you are worried about its compatibility with your storage device, then be at ease because Recoverit supports more than 2000 storage devices. These include some common storage devices like hard drives, Pen drives, and USB Flash drives, as well as camera devices like action or drone cameras.
Now that you have seen the might of Wondershare Recoverit let's see how we can recover permanently deleted photos with it in a stepwise manner.
Steps for Recovering Deleted Photos
Here are the steps for recovering deleted photos.
Step 1 Download and Install Recoverit
The first thing you need to do is to download the free version of Recoverit Photo Recovery on Windows or Mac. Once the download process is finished, install the software right away.
Step 2 Launch the Tool and Select a Hard Drive
Now launch Recoverit and scan your hard drive, which had the photo before it was deleted.
If you want to recover photos from an SD card or any external device, make sure it is connected to your computer before you launch Recoverit.
After you have selected a hard drive, open it.
Step 3 Wait Until All Deleted Photos are Found
Wondershare Recoverit will search for the deleted data in the selected hard drive. Wait patiently until all the files are found. Or you can quickly find the desired photo by Filtering keywords or File type, etc.
Step 4 Preview It Before Recovering and Click on the "Recover" Button
Now you have to look for the photo you want to recover. After finding it, you can preview the image from the "Preview" button to make sure it is the one you are looking for.
After that, hit the "Recover" button on the bottom right of the interface, and you will be able to get the image back on your device.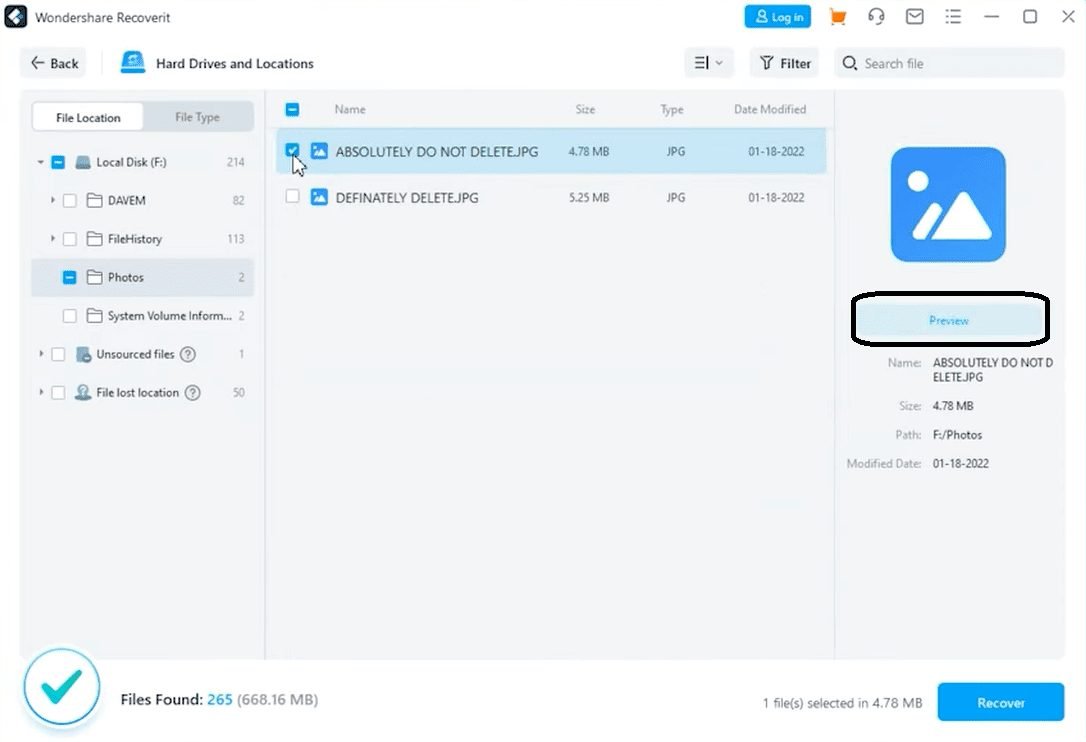 So that's it, folks. This was all you needed to recover permanently deleted photos. Nothing is simpler than this, right?
Now before we end our article, we'll give a bonus tip and show you how to keep your SD cards safe. So that you don't encounter a situation of photo deletion anymore.
Bonus Tip: How to Keep SD Cards Safe
If you want to keep your memory cards safe for a long time, then you have to follow precautionary measures. Here we have compiled some of the most important ones that are a must for keeping your SD Cards safe.
You should use a high-performance memory card and card reader.
You must eject your card safely while it is connected to a device.
Form a habit of formatting the SD card before you take photos.
Turn off your camera first when you want to remove the SD card from it.
Your SD card must be dry and clean before any use.
Think twice if you want to delete any image from the memory card.
Always edit or delete images on the computer, not on camera.
Conclusion
Anyone using a camera and memory cards can encounter a situation where they lose their important photos somehow.
But you don't need to worry anymore. Just download Wondershare Recoverit right now, follow the steps discussed above and get back those important images right away.
This tool provides one of the highest possible recovery rates and is highly reliable.
And make sure you follow the precautionary measures we shared so that you don't have to deal with photo deletion issues anymore.