Have you thought about how useful it would be to have a ringtone that says the name of the person calling? Well, it's possible! With technology, you can set the My Name ringtone to let you know who is calling you.
A unique sound clip that plays when someone calls you and says the caller's name is called a "name ringtone." If you set up a name sound, you don't have to look at your phone to see who is calling.

It is beneficial when you're moving or can't look at your phone to see who's calling. We will learn more about making calling name ringtones in the following parts.
What You Need to Prepare Before Making a Calling Name Ringtone
Before we dive into the process of making a calling name ringtone, it's essential to prepare a few things.
A computer or mobile phone with internet access.
Then you'll need a reliable ringtone maker app
A recording of the name or phrase you'd like to set as your ringtone
A bit of creativity to make it unique.
Steps to Make My Name Ringtone
If you are looking for an online call my name ringtone maker, do try Prokerala Ringtone Maker.
It is an online tool packed with features for creating and downloading caller name ringtones that announce the caller's name.

With its user-friendly interface, you can easily create a name ringtone in just a few simple steps, even without technical skills.

Here are some key features of Prokerala Ringtone Maker:
Easy-to-use Interface
Prokerala Ringtone Maker provides a user-friendly interface that simplifies the process of creating my name ringtones. You can navigate through the tool effortlessly, making the experience smooth and hassle-free.
Preview Option
Before downloading your created ringtone, Prokerala Ringtone Maker offers a preview option. This allows you to listen to your ringtone and ensure it meets your expectations.
You can make any necessary adjustments or modifications before finalizing the download.
Online Availability
Prokerala Ringtone Maker is an online tool that eliminates compatibility concerns with your device. Whether you're using a computer, smartphone, or tablet, you can access the tool through a web browser, ensuring convenience and accessibility.

Overall, Prokerala Ringtone Maker is a great choice for anyone who wants to make a call-my-name ringtone.

Now let's look at how you can use it to download a name-call ringtone:

Step 1: Go to the Prokerala Ringtone Maker website. Then, proceed to click "Create Your Name Ringtone."
Step 2: Fill in the required data. Enter your name or the caller's name you want to create a ringtone for.
If you want to have a "call my name" ringtone, you can type in the messages and your name. Then, click "Make Ringtone."

Step 3: Download the name ringtone result.
You can click the "Preview" button before downloading to listen to the result first. Once satisfied, click "Download" to save it to your phone.
What's the Most-Used Ringtone Maker in the Market
When it comes to the most-used ringtone maker in the market, one highly recommended option is the Dr. Fone Ringtone Maker.

Packed with powerful features and a user-friendly interface, Dr. Fone Ringtone Maker has gained popularity among users worldwide.

Let's explore its notable features and the steps to set a custom ringtone using this tool:
It works with a lot of different audio files.
An interface that makes it easy to make custom name ringtones
You can listen to a sample of the ringtone before you download it.
The length of ringtones can be changed.

With the above features, Dr. Fone Ringtone Maker makes it easy to make your own ringtone. There are only a few steps you need to take:

Step 1: Plug in your phone and open Dr. Fone on your computer. Then, you can open the "Ringtone Maker" from the main page.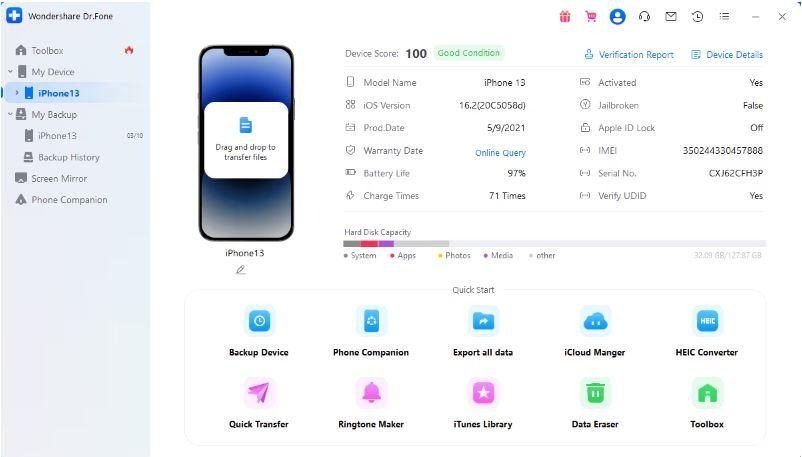 Step 2: Choose to upload from the local music library or your phone device's music.
From there, you can choose an audio file from your device's local music library or device music.
Import music to Dr. Fone.

Step 3: Select the audio file that you want to use for your ringtone.
You will see a list of files from the selected folder. It could be a 'my name' ringtone you made, a voice recording, or any other audio file that you wish to use. Pick it and hit "Select."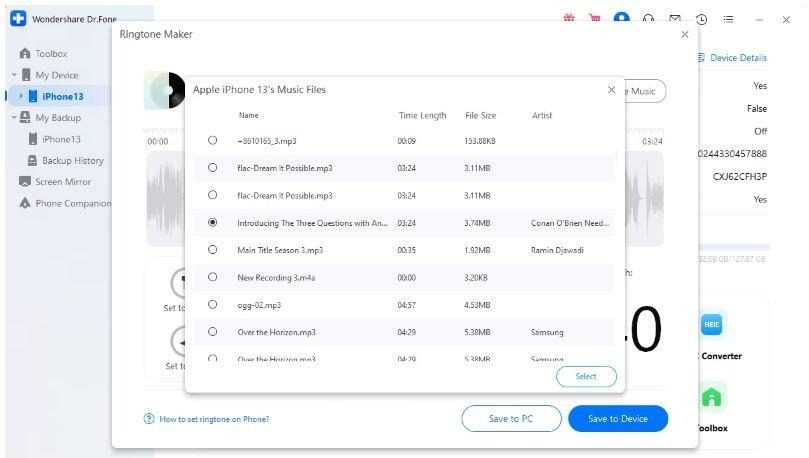 Step 4: Trim and customize the specific section that you want.
Use the waveform to trim the section of the audio file that you want to use for your ringtone. Then, adjust the volume, add fade in/out effects, or include sound effects to give your ringtone a personal touch.

Step 5: Save the ringtone to your PC/device.
Save your customized ringtone by clicking the "Save to PC" or "Save to Device" button. Once saved, you can transfer your new ringtone to your phone and set it as your default ringtone.

In summary, Dr. Fone Ringtone Maker is a powerful tool that allows you to create a personalized ringtone that truly reflects your personality. With its comprehensive features and compatibility with Android and iOS devices, this tool is perfect for anyone.
Conclusion
Creating a calling name ringtone is a fun way to personalize your mobile experience and streamline your call identification process.

With the right tools, such as the Dr. Fone Ringtone Maker, you can create unique ringtones in no time. Start your creative journey today, and make your calls more engaging than ever before!