What better way to try and win some big cash prizes than doing so with your favorite video game characters. There are hundreds of themed slots like these around but we've unearthed some of the best around for people to play.
Street Fighter II

We start with one of the oldest and most iconic arcade games of all time. Street Fighter was made by game developer Capcom.
The first game in the series was released all the way back in 1987 and was played on home computer systems and arcades around the globe. Then Street Fighter released number 2 in 1991 which was arguably Capcom's most famous game in the series.
Street Fighter II allowed players the option to choose from over 30 fighters, and each character had different skills and fighting techniques. 
Naturally, with Street Fighter II being potentially the most famous game in the series, this is the one which was turned into a slot.
This slot will take you back as you play with 8 classic characters with the same actions and emotions as from the video game. Fight your opponent and if you win you will be awarded Beat the Boss Free Spins. There are 4 boss levels in Free Spins.
Each level offers a higher multiplier. Each boss beat advances you to the next level until you fight the big boss himself, M.Bison.
Resident Evil Slot

On the subject of Capcom, it's time to look at another of their classic games which have also been recreated as a slot. Resident Evil first hit our consoles back in 1996 and is surely the mother of all zombie survival games. So it is an absolute no (zombie eating) brainer that this classic game series has been made into a slot and just has to make our list. 
As you'd expect the slot features some of your favorite characters from the Resident Evil series and the bonus features allows you to even shoot zombies, and every clean hit produces gory wilds to your free spin reel which in turn provides cash prizes.
Tomb Raider

Lara Croft is probably the most iconic video game heroine of all time and Tomb Raider is a series that has sold millions of copies worldwide. Once again you help Lara Croft battle through an adventure, this time in sci-fi surroundings in the form of a casino slot. Players seek the Lara Croft symbols which activate free spins, while the Tomb Raider logo symbol is wild and can help complete pay lines, winning you more coins. Players will also look out for the idol symbol which activates the bonus. Take your pick from 12 idols to reveal your Tomb Raider multiplier and prize. 
Hitman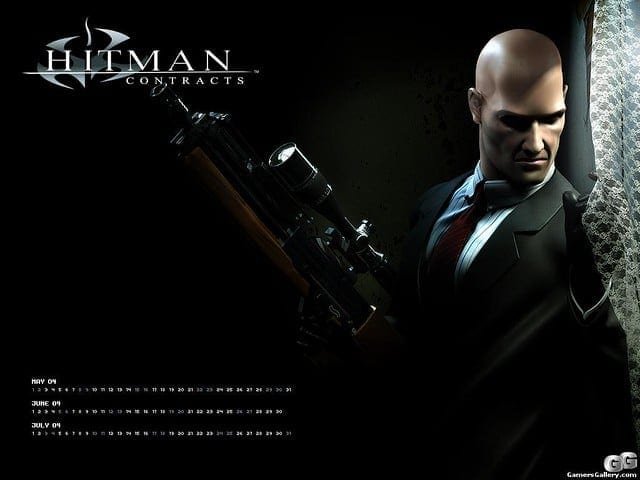 The Hitman series was launched in 2007 and became one of the most recognizable PC and console games of all time. Players take control of 'The Hitman' who is also known as Agent 47 who works for ICA (International Contracts Agency), who carry out assassinations on deserving villains around the world. 
Casino game developer Microgaming turned The Hitman into a slot and just like the game, they have recreated the dark sinister feeling.
The reels are filled with weapon icons and every now and then Agent 47 himself will make an appearance holding two guns, activating the wilds. This slot has many other cool bonus features that can win player's money and this fun slot is a good successor to the video game. Jump in on the action with Agent 47 at this online casino.
Call of Duty 4

Call of Duty is one the highest selling games franchise, as of 2016 Call of Duty had sold over 250 million copies worldwide, across its releases. So it was only a matter of time before this gaming blockbuster was recreated as a video slot. 
Call of Duty 4 was perhaps the game that skyrocketed the series to exploding heights and the good news for CoD 4 fans is that this is the installment that was turned into a slot. CoD 4 fanatics will recognize some of the slot icons from those of the games such as grenades and guns. This five-reel 25 pay line slot, has a total jackpot of $100,000, meaning players will be in with a shot at winning some serious life-changing cash.