Are you sick of being limited by where you are and not being able to use certain apps or games because of where you are? Well, worry not! The MockGo iPhone GPS Changer from Foneazy is here to help. This amazing product has something for everyone – whether you're a gamer, an app developer, or just someone who wants to explore the world from the warmth of their own home – it allows you to change your GPS location with just a few clicks so you can access any app or game you want.
Foneazy's MockGo iPhone GPS Changer which is now compatible with all iOS versions and devices, including the newest iOS 16 and iPhone 14 models.
A step-by-step guide for how to change location on the iPhone with MockGo
Changing the location on your iPhone with MockGo is pretty easy, just follow the simple steps below and you are going to be wherever you want in no time.
The first thing is to connect your iPhone to your MAC or PC, to do that, launch MockGo on your MAC or PC.
On your iPhone, go to Settings and go to Privacy & Security, scroll down to see Developer Mode and enable it. (Settings > Privacy & Security > Toggle Developer Mode on).
Launch Maps on your iPhone and click "Start" on MockGo to begin.
Allow your iPhone to restart and then click "Turn on" on the Developer Mode prompt.
Foneazy MockGo iPhone GPS Spoofer is easy to navigate, you can start by entering a location on the search bar and teleporting your location to wherever you want.
Explore some of the features below.
Teleport Mode
Users can instantly change their location with only the touch of a button thanks to this functionality. It's a great solution for unblocking geo-restricted software.
The 2-spot Option or the Multi-spot Mode
Users can mimic movement by setting up routes that include many stops when using either the 2-spot option or the Multi-spot mode. You can even download GPX files from the Foneazy website and use them to fake your location when trying different apps.
The Joystick Control
Users have an engaging approach to traveling freely and discovering new areas using the Joystick Control feature. With this feature, you can determine your route and destination. It's an amazing product addition that improves the overall user experience.
Realistic Mode
This mode adds erratic changes in speed to make it look like you are walking or driving. It's a great choice for people who want to fake their position in a more realistic way.
Multi-device Control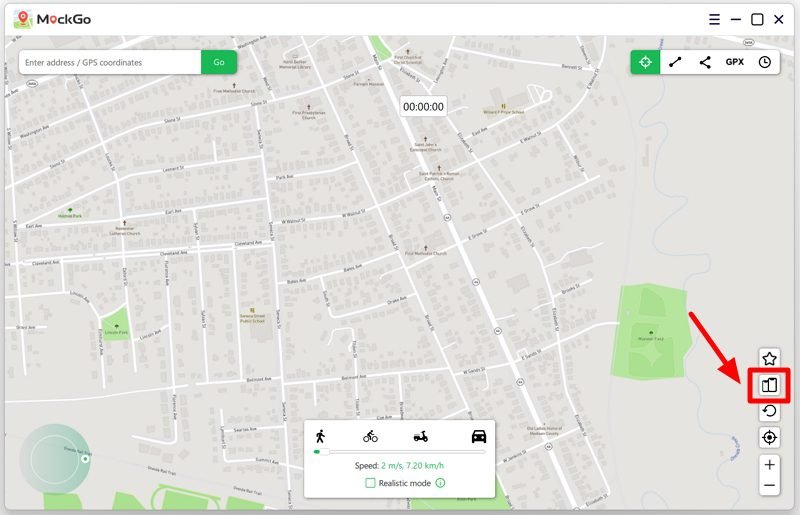 You can change the GPS on up to five devices in a row with the multi-device control tool. This function is especially helpful for app developers who need to test their apps on different devices. With the MockGo iPhone GPS Changer, you don't have to change the location on each device one at a time. Instead, you can do it all at once.
Favorite Location and Route
This feature lets you effortlessly save your favorite locations and routes. With this incredibly helpful feature, you can conveniently access the places you frequent most often, be it for work or personal purposes.
Conclusion
With the help of the instructions on the Foneazy website, it's easy to use the MockGo iPhone GPS Changer. This complete step-by-step guide shows you how to use the product and tells you how to set up and try your GPS spoofing.
The amount of customer support offered by Foneazy is one thing that sets the MockGo iPhone GPS Changer apart from other GPS spoofing tools. They have a devoted customer support staff that is available anytime to answer any questions or worries you may have about the product. The MockGo iPhone GPS Changer is a good product because they respond quickly and are ready to help customers.
The MockGo iPhone GPS Changer is a great tool for individuals who want to easily change their GPS location. It stands out from other GPS-faking tools because it has a lot of features, is easy to use, and can be managed from more than one device. The MockGo iPhone GPS Changer is the ideal answer for everyone.
To sum it up, Foneazy MockGo iPhone GPS Changer is the perfect solution for those who require a fast and easy way to switch their GPS location. If you need to access location-restricted software or games, you can trust the MockGo iPhone GPS Changer. Its impressive range of features and reliable customer support make it the perfect alternative for changing your GPS location.