As you can see, there is an increasing number of personal data on your computer nowadays. At the same time, companies will create more important business data as well. As a result, making backups for business data has become a significant topic among users.
Compared with traditional backup methods like saving business data on a hard drive, cloud backup is a more popular option for business computer backup.
Why Create Cloud Backup for Business Data?
Cloud backup, means backing up your data to the cloud and storing it in a database given by the cloud backup service. Why do we need to create a cloud backup for business data? What benefits will it bring to use? Let's talk about it in some different aspects.
High business data security: Creating cloud backup for business can make it away from local accidents including natural disasters, computer crashes, virus attacks, and so on.
Manage business data effectively: Once you create a cloud backup for business data, you can access and manage business data centrally on any device, which will improve working efficiency a lot.
Reduce business data costs: You do not need to pay a lot for a storage device anymore. In cloud backup software, you can choose a suitable subscription plan or use the free cloud storage space it offers directly.
Restore business data to any version: Cloud backup software often provides cloud backup with versioning for your business data, so you can restore it to any previous version with a few clicks.
Best Free Business Data Backup Software – CBackup
Are you looking for professional and safe business data backup software? Here comes one of the best free business data backup software called CBackup.
The most important is data security. Do not worry, your business data will be quite safe in CBackup. CBackup comes from a professional company that works for global data security for a long time.
In CBackup, your cloud drive account is protected by OAuth, which will make sure that your cloud drive account and login password are safe. In the data transfer process, CBackup uses 256-bit AES Encryption to protect your business data effectively
CBackup provides a cloud backup space named CBackup Cloud, and you can back up business data to it directly. Or, you can choose some other public cloud drives as the backup destination. Many mainstream cloud drives are supported in CBackup, like Google Drive, OneDrive, Dropbox, etc.
If your computer in the company is based on the Windows operating system, you can get the CBackup desktop client on your computer and perform backup tasks on the desktop conveniently.
For business data, CBackup provides some professional backup and sync features and you can know something about them here. Any time you need them, you can try them for free.
Backup PC to public cloud: You are allowed to back up business data from a computer to a public cloud via CBackup without any limitation on file size and backup speed.
Free cloud backup space: After creating a new CBackup account, you will get 10GB of free cloud backup space in CBackup Cloud. You can choose to back up business data to it as well.
Combine cloud storage: If free cloud backup space is insufficient for your business data and you do not want to pay for an expensive subscription, you can combine some cloud drive accounts together to get unlimited online backup space for free.
Sync PC to public cloud: You can also create sync tasks for business data for convenience.
Cloud to cloud backup or sync: If you need to transfer or back up business data between different cloud drive accounts, you can try the cloud to cloud backup or sync feature to perform data transfer tasks on one interface.
Tip: How to Create a Business Data Backup
If you make the decision to use CBackup as your business data backup software, you can refer to the simple tutorial to create a cloud backup for it with CBackup step by step.
Get and set up the CBackup official desktop client from its website. Create a new CBackup account, and launch the application to log into your new account.
2. Press the Storage option on the left panel, and you can select any public cloud to add to CBackup, then press Authorize Now.
3. In the Backup part, click on Backup PC to Public Cloud.
4. Choose any business data on the computer as the backup source, and choose a cloud drive account you have added to CBackup as the backup destination.
At last, please tap the Start Backup button to start the cloud backup task for your business data.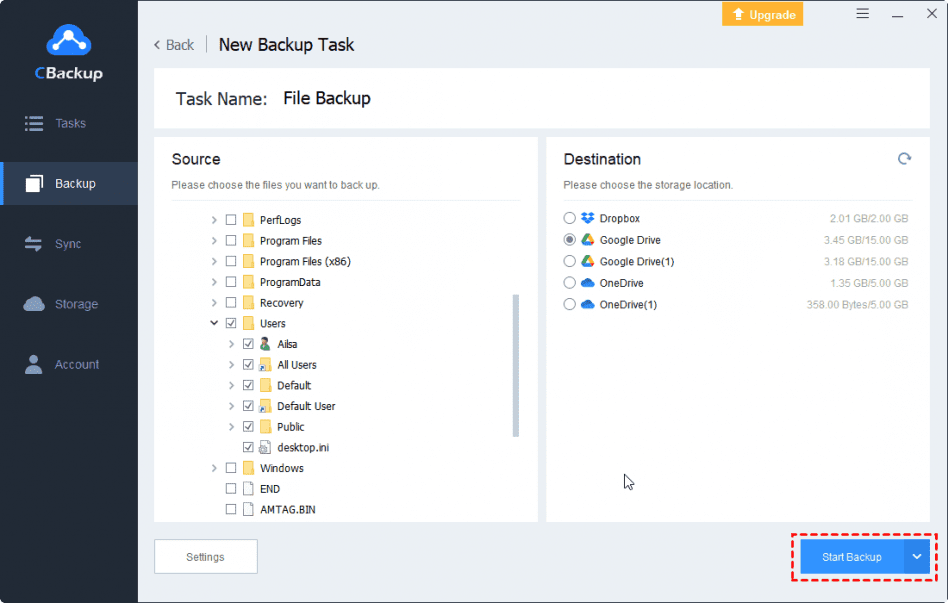 Final Words
We have introduced one of the best free backup software for business data backup. If you are looking for a nice choice for business data backup, hope this review can give you some useful information.