Let's face it, growing your Instagram follower count can be challenging. Even when you create quality content consistently, you'd still experience slow/zero growth if you don't get enough eyeballs to see the content and interact with it. This is a problem new content creators, businesses, and influencers have to face at the start of their climb to high Instagram following, fame, and business.
If you fit the description, you're probably researching tools and methods to give your content the boost it needs for Instagram's algorithm to take notice.
GetInsta is one of the top Instagram tools for people trying to crack the Instagram growth code. The app promises Instagram free followers and engagement (likes and comments). The tool uses the "Instagram pod" technique to generate engagement and followers; however, every activity is performed through GetInsta, and it has the option to purchase engagement. And f you want to increase your followers, then don't forget that you can get Instagram followers from different sites.
Recently, Blogthetech received an invitation to explore GetInsta and share our experience here. After several hours of tinkering with the features of the software, we created this deep-dive review of GetInsta. As you read on, you'd learn the functions of the app and our verdict to get Instagram followers free.
GetInsta Review: Installation
The first commendable feature of the GetInsta software is its portability. Android, iOS, and Windows users can download the GetInsta app to their devices. The app is lightweight, so it doesn't require huge resources to download and install the application.
We tried out the PC version of GetInsta, which is about 7.1mb. The installation process is similar to most .exe apps on the market. Right-click to select Install or double-tap the app to start the installation process. When the installation is complete, click Finish to launch the program.
Interface
The PC version of GetInsta has a simple and fluid interface. The app opens to a login page where you can sign in or sign up. If you have an existing account on the platform, enter the correct information in the "email" and "password" fields to access the platform. Otherwise, click the sign-up button at the bottom of the page to register, create a password, and use the app.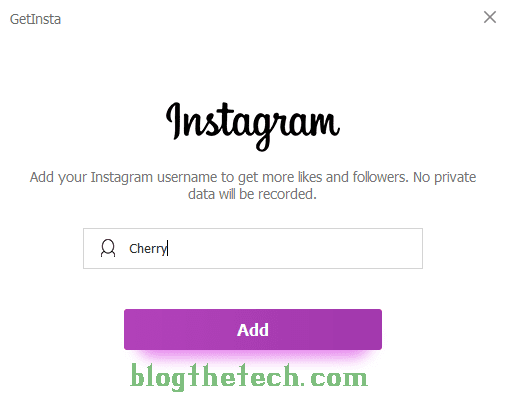 How it works
As a first-time user, you have to provide your Instagram account handle. This information is requested after sign-in. Enter the name of the account you want to grow and click add. GetInsta accepts more than one IG account from a user. So you can add as much as you can handle.
After clicking "add," the app will automatically load the user section, which gives you access to every feature GetInsta offers.
In the user section, you will receive a notification for a sign-up bonus of 300 coins. This takes your coin tally to 600 Coins are equivalent to cash on GetInsta. You can earn them by performing tasks – like, comment, and engaging with posts on Instagram.
Before you are allowed to perform a task or use any feature, you have to log into your Instagram account through the GetInsta app. Afterward, all your tasks can be tracked and rewarded accurately, so you can get Instagram followers free.
Getting free Instagram followers with GetInsta
For those who want to grow their follower count, the "get followers" feature is the main draw of GetInsta. The service allows users to get free Instagram followers and pay for it with coins or money.
You can order a minimum of 10 followers and a maximum of 1000 followers. If you want things fast, you should choose the "pay with money" option. This option is more transactional and doesn't require your action to get engagement. Alternatively, you can get free Instagram followers but the price is your time. You have to perform several tasks to get the number of coins needed to get 10, 50, 100, and 1000 followers.
As you'd expect, we selected the "pay with money" option because "trading time for followers" wasn't appealing or suitable. When you choose the "pay with money" option, you are commissioning GetInsta to help you get a specified number of followers.
Depending on your order, it can take between 7 – 14 days to get all the followers. Use the task list panel to track the progress of your order. While you wait, it is essential to create more content for the new followers to engage and create a chatter enough for Instagram to notice you.
Conclusion
GetInsta is a good service that delivers what it promises, real Instagram followers, likes, and comments. You can get free Instagram followers with the free coins you earn or money. The latter is the best route for fast results.
If you are a newbie on Instagram or trying to build a profile to enter influencer status, you need a holistic plan to grow, and GetInsta should be in your plan. The application is easy to use and offers an option to those who use the service without paying and customers who want to pay.