The Huawei Mate 30 Pro has a modern design, with a huge 6.5 ″ screen curved on the sides that are surrounded by rather narrow frames above and below.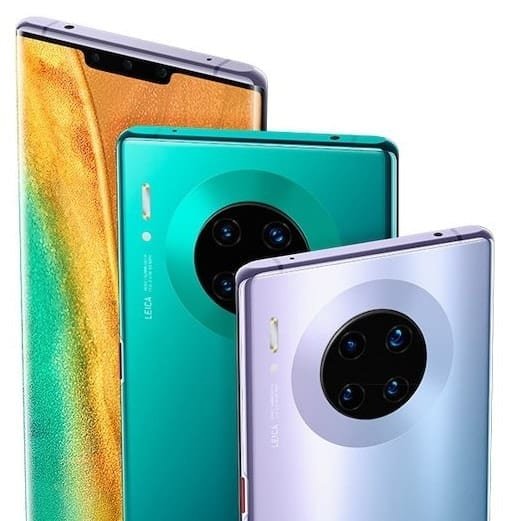 Huawei has included a fairly large notch in the upper area that houses a 3D facial scanner and an airborne gesture detector.
Since there is also a fingerprint reader under the screen, we would not mind giving up 3D facial recognition in exchange for a smaller notch.
The curvature of the screen is more pronounced than in other smartphones, which makes the sides of the screen look very dark when looking at the phone in front – in fact, Huawei allows you to limit the screen area so that you do not use the ends
This curvature has led Huawei to eliminate the physical volume buttons. Now it is necessary to take two strokes on the side so that a slider appears on the screen. In practice, I find this system impractical, especially if you have to turn down the volume quickly, take a screenshot, etc.
Another of the design features is that it lacks an earpiece at the top. Huawei has incorporated a screen that, when vibrating, brings the sound to your ear when you have your ear supported.
The glass back cover, also curved on the sides, has a glossy finish, so fingerprints tend to be marked. What is most striking, however, is the large circular chamber module, which protrudes slightly from the surface and is surrounded by a mattering.
The fingerprint reader under the screen unlocks the phone quickly but not as much as a conventional one. The reading area is somewhat reduced and is not marked on the Always Active Screen, which sometimes makes it difficult to get it right. As for facial recognition, it works quickly and reliably, even if you wear glasses, are in the dark, etc. It is also not easily deceived because it is 3D.
Huawei has incorporated an OLED panel with Full HD + resolution, so you might wonder if it looks as sharp as Quad HD + panels. In my opinion, its density of 409 dpi is more than enough even for an OLED panel with a Pentile matrix (less sharp than the RGB matrix of LCD panels).
The screen of the Huawei Mate 30 Pro is capable of displaying a wide range of colors, since it not only covers the sRGB color range but also the wider DCI P3 range, commonly used in the film industry, and also supports HDR content.
In normal color mode, the screen offers color fidelity very well. If we opt for the vivid color mode, the color fidelity worsens because, as the name itself indicates, the colors are oversaturated (although many people prefer intense colors even if they are unreal …).
The maximum brightness of the screen is around 629 nits (measured with the screen fully lit in white), which means a high level of brightness, although slightly below some other high-end smartphones with 700 or 800 nits. Since the panel is OLED, the black color is pure and the contrast is very high (theoretically infinite).
The screen offers the Always Active Screen mode that permanently displays the time and other data of interest such as battery level and notification icons. It is possible to wake up the screen with a double-tap on it, as well as make it turn on momentarily when a notification arrives.
Read Huawei Mate 30 Pro In-depth Analysis – Design and Screen
The Huawei Mate 30 Pro premieres the Kirin 990 processor manufactured in a 7 nm process. This processor offers faster CPU clock speeds and a new Da Vinci NPU architecture.
The Kirin 990 has two Cortex-A76 cores at 2.86 GHz, two Cortex-A76 cores at 2.09 GHz, and four Cortex-A55 cores at 1.86 GHz. The new chip incorporates a 16-core Mali-G76 MP16 GPU and supports LPDDR4 memory- 4266.
The Huawei Mate 30 Pro is accompanied by 8GB of LPDDR4X-3733 RAM, an amount more than enough to have no problems when doing multi-task. In my experience, apps remain in memory and unexpected closures are not suffered.
In CPU tests, the Huawei Mate 30 Pro has obtained high scores, along with other high-end smartphones. In the day today, the Huawei Mate 30 Pro moves quickly and I have not suffered any stops when it comes to moving around the interface, loading heavy apps, or doing multi-task.
The 3D graphics performance is good but it falls below other high-end smartphones in the tests. However, three demanding 3D games have been tried such as Asphalt 9, Dead Effect 2, and PUBG, and in all of them, I have measured very high average refresh rates, close to 30 or 60 FPS, depending on the limitations of the title. Therefore, today, if you are fond of games, you will have no problem enjoying the most demanding 3D titles.
The Huawei Mate 30 Pro is available with 256 GB of storage, so you can store a good number of photos, videos, and movies. Huawei has added the possibility of expanding storage but, instead of using a micro-SD card, it has opted for a proprietary format called NM Card.
In the connectivity aspect, the Huawei Mate 30 Pro is well served with WiFi 802.11 b / g / n / ac (wave2), Bluetooth 5.1 (compatible with aptX, aptX HD, LDAC, and HWA), 4.5G / LTE, a transmitter of infrared and NFC.
The Huawei Mate 30 Pro has a large battery of 4,500 mAh which has obtained spectacular autonomy compared to other high-end smartphones.
In addition, it has a Super Charge 40W fast charge that allows you to recharge the 95% phone in approximately 1 hour, as well as wireless charging at 27W. As a curiosity, the Huawei Mate 30 Pro is also capable of charging other smartphones wirelessly, although it makes it quite slow.
The Huawei Mate 30 Pro lacks a 3.5 mm connector and therefore does not offer FM radio. The main speaker is located next to the USB-C connector, making it easy to inadvertently cover it when playing or watching a video.
Read Huawei Mate 30 Pro In-depth Analysis – Hardware and Battery
Focusing on the phone software, the Huawei Mate 30 Pro runs EMUI 10 on Android 10. Now, as is well known, it does not incorporate Google mobile services (GMS) or the Play Store app store.
Although there are ways to install the GMS and Play Store on the Mate 30 Pro, it is far from being an ideal solution. On the one hand, we have to download and install APKs of unknown origin, which always poses a risk.
On the other hand, some apps (not many) do not work since, even after installing the GMS, the Mate 30 Pro appears as a "device not certified by Google" and the SafetyNet test fails. This means that some bank apps, streaming (for example, Netflix) or Google Pay do not work. Even if you can install an old version, as with Netflix, you will not be able to watch HD content because it does not have Google Widevine certification.
Therefore, today, the Huawei Mate 30 Pro has limitations in the software section that are not present in other devices. Its importance will depend on the apps you use on your smartphone since most apps (WhatsApp, Facebook, Twitter, Instagram, YouTube, etc.) work smoothly after installing Google services (GMS) on the outside.
EMUI 10 brings a new interface design and system apps inspired by a magazine where colors with low saturation and white spaces predominate, as well as the dark mode on the interface.
In addition, EMUI adds a large number of features that complement Android as a carousel of wallpapers, additional energy-saving modes, additional application permissions, twin application, private space, application blocking, file safe, projection in desktop mode wirelessly or backup.
Read Huawei Mate 30 Pro In-depth Analysis – Software
Finally, we have to talk about its excellent rear quad camera formed by wide-angle cameras (40MP 1 / 1.7 ″, f / 1.6), ultra-wide-angle (40MP 1 / 1.54 ″, f / 1.8), 3x telephoto lens (8MP 1/4 ″, F / 2.4) and ToF to measure distances.
Starting with the main camera, its performance in conditions of abundant light is excellent. When the light is low, the main camera also gets good shots with a reduced noise level, thus surpassing almost all the rivals against which we have faced it (the iPhone 11 Pro seems to have some advantage when preserving the detail). Night mode has been improved and is capable of taking long-exposure photographs without a tripod.
The ultra-wide-angle camera has a large sensor, which helps to take good shots even in low light conditions. Other smartphones neglect this camera and the quality of the images is usually quite poor at night, to the point that its use is not recommended.
The third camera is the telephoto camera, with a lens that offers a 3x fixed optical zoom. Although the magnification is not as high as the 5x periscope camera of the Huawei P30 Pro, in my opinion, this is rather an advantage since you usually do not need to get so close.
Let's not forget that any magnification below, in this case, 3x (or 5x on the P30 Pro) is achieved by the digital zoom of the main camera.
The last camera is the ToF depth camera that helps achieve a more natural blur effect on portraits. In the tests, the blur looks quite natural, although certain areas of the hair are still challenging.
When it comes to recording video, the Huawei Mate 30 Pro has taken a good leap by offering 4K recording at 60 fps with stabilization. The image quality is good even at night and there is a big difference with other smartphones when using the ultra-wide-angle camera.
Huawei has included some curious modes that squeeze the AI ​​capabilities to the fullest, such as the Color AI mode that leaves the entire scene black and white but keeps people in color and the Blurred Background mode that applies the bokeh effect to the recording of video. The results are better than with previous models.
Another novelty of the camera is the possibility of recording video in super slow motion at 7,680 fps, a value that never seen before on a smartphone. The resulting videos are very striking although it may not be something you will use many times.
The front camera has a resolution of 32 MP and captures selfies with good quality as long as we are in good light conditions. It allows you to take selfies in Portrait mode as well as, of course, apply the beauty effect.
Read Huawei Mate 30 Pro In-depth Analysis – Photo Camera and Voice Calls
In conclusion, the Huawei Mate 30 Pro is a highly recommended smartphone for its power and cameras, but you should be aware of its software limitations since it is not a smartphone for all audiences.