There is a sudden surge in concepts like Big Data, data analytics, data science, etc. All these sounds and feel similar for a layman since all technologies work on data itself. Also, many companies are moving towards data-driven, so these technologies have come to focus. Many people are inclined towards becoming certified data analysts but do not properly understand Data and its analytics.
Many articles represent the benefits data provides to companies and why it is essential. But the main concepts of what data is and what analytics strives to achieve are left out. This article will act as a data analytics guide to remove all the confusion around both concepts. It will also provide a few features required to become a certified data analyst.
What is Data?
Data is nothing but information. Every task you do generates data; for example, when you click on a particular website, the information regarding the click, time spent on data, and many more parameters are recorded. Data can be present in various formats, including characters, numbers, alphanumeric, machine code, etc.
Major corporations that we have inculcated in daily life like meta, Facebook, Google, and many more collect data to improve their services and recommend the best options based on users' trends and requirements. This collected data is in huge quantities, and sometimes multiple parameters are grouped, creating massive amounts of data and creating the concept of Big Data.
Generally, Data on itself doesn't provide the required insights. It is like looking at random numbers jumbled in an uninterpretable structure. But it becomes precious when the data is organized, cleaned, and appropriately structured. Analytics comes into the picture when insights are needed from data.
What is Analytics?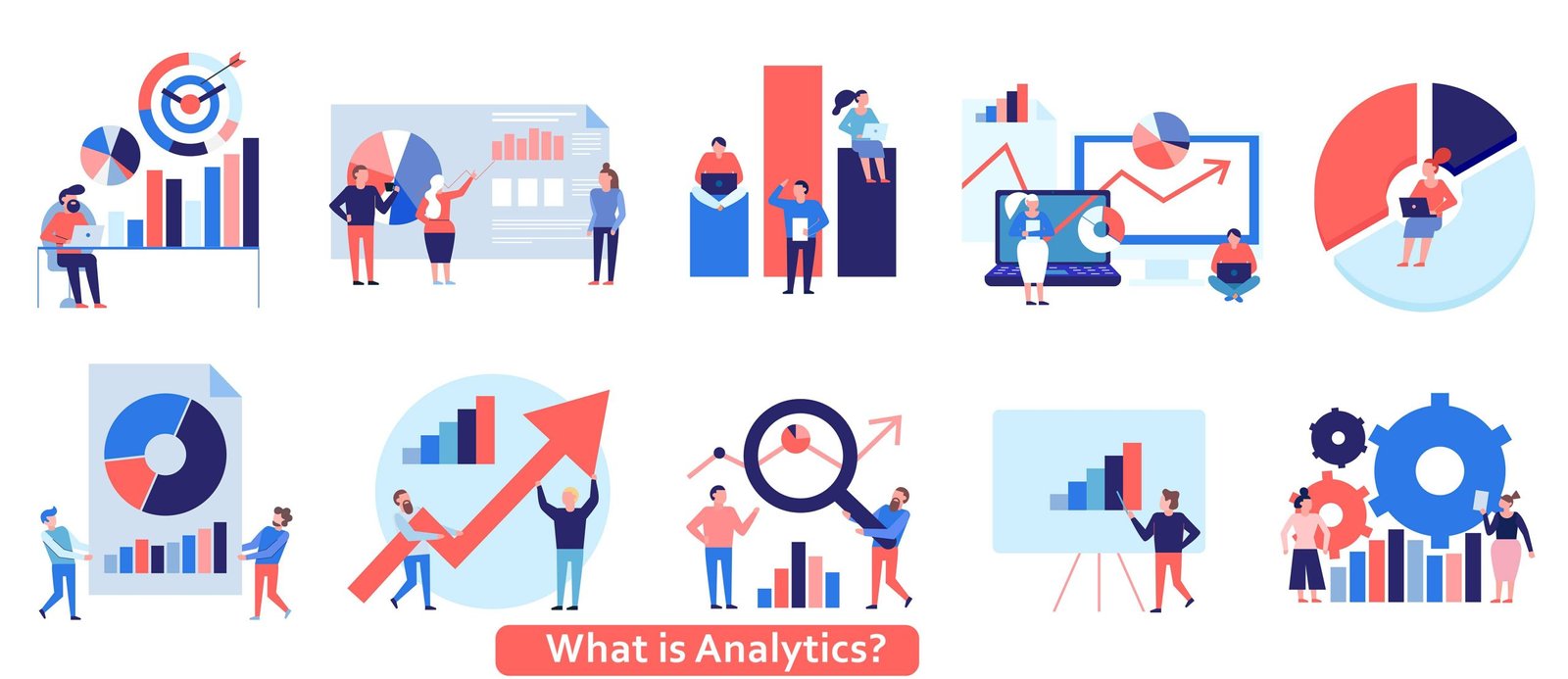 As the name suggests, analyzing and gaining insights from data is the process. It is an umbrella term that applies to many industries and data types.
Analytics deals with generating helpful information and using it for business development. Performing analytics on the data shows patterns, can find the areas of improvement and impacts and shows potential future trends.
Data Analytics has advanced a lot in recent years, and now powerful Data Analytics tools are available in the market that goes the extra mile by performing additional tasks. Data analytics can be further used for technologies like Machine Learning and Artificial Intelligence, increasing the insights one can gain from the data.
The data-driven companies depend on Analytics to draw product plans and efficiently understand the target markets. This has increased the requirement of Certified Data Analysts.
What are the Benefits of Data Analytics?
Performing analytics provides companies with many benefits. A few of them are listed below:
Personalized strategy: Analyzing the data provides insights that can be used to create and alter the strategy for maximum efficiency.
Informed decision-making: With the analytical results in hand, companies can rely on decisions based on facts, which reduces the losses.
Streamlined inventory: Data Analytics allows organizing the inventory to minimize losses and maximize efficiency. This also allows for deciding inventory of different markets.
Mitigate and handle setbacks: Data Analytics provides insights that can be used to avoid any setbacks beforehand. If it occurs, insights can also be used to manage them efficiently.
Who are certified data analysts?
Data Analysts are certified professionals who ingest, process, and analyze data to provide statistical insights. They analyze large datasets to gain meaningful information and leverage decision-making based on data.
Creative and Analytical Thinking
Curiosity and Creativity are the essential traits one needs to own to grow to be a Certified Data Analyst. Having a stable basis in the statistical method is crucial. However, searching for troubles with an innovative and analytical lens is vital.
Data Visualization
Data Visualization is one of the most crucial abilities one needs to own to grow to be a Certified Data Analyst. A proper Data Analyst is aware of what sorts of Visualization Charts to use to scale visualizations, relying on the form of audience. A Data Analyst has to grasp the artwork of representing the statistics in an easy-to-recognize manner.
Data Warehousing
Sometimes you would want to be in tandem with the Data Engineering group in the backend as a Data Analyst, attach databases from a couple of sources, create a Data Warehouse, and use Queries to extract and manage the statistics. Hence, to grow to be a Certified Data Analyst, you must be acquainted with the essential standards related to Data Warehousing.
Data Cleaning
Data extracted from a database isn't accessible and is not prepared for evaluation, wherein Data Cleaning comes into the picture. To grow to be a Certified Data Analyst, you have to be capable of getting rid of corrupt data from a dataset that may diminish your evaluation.
Mathematics and Statistics
Objective decision-making is a vital part of problem-solving. To make choices objectively, you will want to depend upon Mathematics and Statistics. You will be required to discover patterns, phase them, and make predictions based on historical records. Therefore, you have to have a sturdy basis of Mathematics and Statistics to provide you with the optimized approach to a problem and efficiently carry out Data Analysis.
SQL Databases
SQL Databases are relational databases with Structured statistics saved in the shape of tables. As a Data Analyst, you must realize how to extract records from numerous tables to evaluate.
Microsoft Excel
Microsoft Excel is a Spreadsheet application presented with the aid of Microsoft that's considerably used for acting Data Analysis. As a Data Analyst, you need to be capable of performing analysis with Microsoft Excel and recognize superior modeling techniques.
Machine Learning
Machine Learning isn't an obligatory talent to grow into a Data Analyst. However, information on Machine Learning is a gain in acting exploratory evaluation.
Programming Languages
Data Analysts must be fluent in a single language and feature a few hands-on experiences with it. Data Analysts use Programming Languages inclusive of R and Python for Data Collection, Data Cleansing, Statistical Analysis, and Data Visualization.
Conclusion
In the current market scenario, where companies are moving towards data-driven and people trying to become certified data analysts, understanding the basics is always left out. Many people tend to get confused between the terms that contain data because the basics are not very clear. This article tries to be an ultimate data analytics guide. It also provides a few necessary features to become a certified data analyst.