With a budget of around £1000, you can build a powerful gaming PC that will max out almost any game you throw at it and provide you with durable components from the best manufacturers. 
To help you gain an insight into what to expect with the budget, we have prepared a detailed breakdown of how to build a gaming PC for £1000 at maximum. We will recommend the best processor to use, RAM, storage options, power supply, casing, and many more.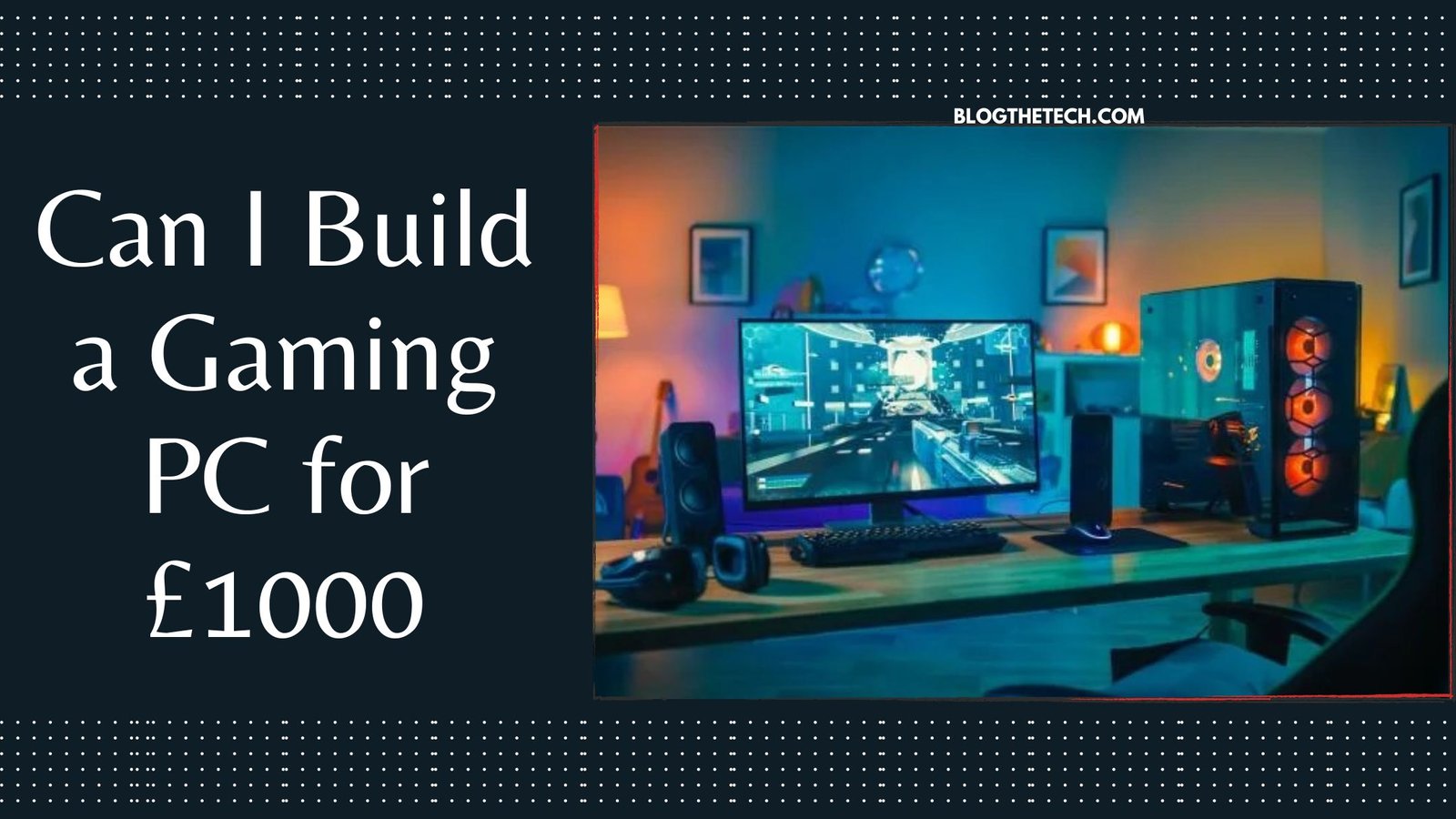 Can I Build a Gaming PC for £1000?
Before purchasing components, you should understand your needs and what you can get with a £1000 budget. Technically, a £1000 gaming PC is no joke. It is possible to upgrade an AMD Ryzen 5 7600X CPU with an AM5 platform for around £200 or an Intel i5 13400 for a lower price. Besides that, you can also get a graphics card upgrade, such as 8GB GeForce RX 6700, for around £500-£600. 
Although it can be expensive, upgrading your graphics with an RX 6700 will ensure you enjoy better frame rates of up to 4K resolutions. But of course, such power can be a bit loud. So, to make things quiet, you can get a BW006 Pure Loop cooler upgrade for £100. It is designed with PWM fans that combine high-air pressure with quiet operations in a white LED illumination.
Finally, you can get a 1TB SATA SSD storage upgrade and (16GB) DDR5 G.Skill Trident Z Neo RAM for £40 each. The remaining amount can be used to purchase PSU, Case, and accessories such as keyboard, mouse, and gaming headphones, but you don't have to replace the existing one before the upgrade. Read on for a detailed review of these components.
Component Breakdown
1. AMD or Intel Processor?
There are two processor options you can try out with a £1,000 budget. You can either choose to go with AMD or a newer Intel processor. Rayzen 5 5600 or the advanced Rayzen 5 7600 can cost you around £200 to £250. You will also need a compatible motherboard, which might increase the price. However, although it can be expensive, you will enjoy features such as clocking speeds of up to 4.6GZ and better CPU cooling.
Alternatively, you can go for the cheaper Intel processor option. An Intel i5 13400 or i5-12400F can cost you around £150, and a compatible motherboard for around £80. The only drawback with choosing Intel over AMD is that you will not have a gaming edge when looking at a future-proofing perspective.
2. Graphics Card
This is undoubtedly the most critical component in any gaming PC. No wonder it is also the most expensive. The 4K graphics and crazy high framerates don't come cheap. We will go with the Radeon RX 6700 for a budget of under £600 for this build. Its clock speeds of up to 1695MHz mean you will have a good gaming edge for any game that requires high VRAM.
If this option strains your budget, you can lower the 1TB SSD to smaller storage or lower Intel CPU generation.
You will also have to budget for a good monitor capable of handling high-resolution graphics. For starters, a 1440p or 1080p monitor from a quality manufacturer will do just fine.
Is 16GB Enough for Gaming?
Based on the current gaming standards, 16GB will be more than enough. Most games don't use more than 8GB, but if you need to run other games or heavy programs while you play, you must be prepared with extra space. Besides, it is not that expensive when dealing with a £1000 budget.
Look for a single slot with 16GB RAM from brands such as Crucial or Trident for this build. It will be better to use a single module than the 2x8GB if you need to upgrade to 32GB. Note that some games, such as Fortnite or the Tomb Raider series, will require higher framerates with almost twice the bandwidth DDR4, so ensure you get a DDR5 option.
It will help you hardness astonishing speeds of up 5600MHz, almost twice that of DDR4. Apart from that, it is also Intel XMP 3.0 enabled to enhance its performance. You can easily find the 16GB RAM on Amazon for around £40.
3. Storage Options
No gaming PC build is complete without a spacious storage option to store all your gaming data. For this build, we will go with a 1TB SSD. Look for an option with solid Gen3 performance, such as Crucial P3 1TB NVMe SSD. These options are designed with NVMe (PCIe Gen 3×4) technology capable of hitting speeds up to 3500MB/s. If you were using HDD before the upgrade, you would be surprised by the crazy speeds with the SSDs.
If you need a secondary drive, you can get it for an extra £40. It can also be feasible for future backup plans or extra storage for other games. You can comfortably download all your games or movies without worrying about low disk space.
4. Casing
Considering the high amount you have spent, you need your gaming PC to look the part. Fortunately, there are plenty of casing options to try out. They are also quite affordable, mostly between £40 and £75. For this build, we will go with the Zalman S2 PC case. It is specially designed with a full Acrylic Side Panel, a power supply unit space, front design for optimum airflow with three pre-installed 120mm fans.
One of the main reasons we chose Zalman for this build is its 7PCI expansion slots with top and bottom magnetic dust filters. It also has a convenient interface with two USB 2.0 ports and one USB 3.0 slot. You can comfortably fit all the components in this build with the Zalman case.
5. Power Supply
A power supply is critical when dealing with a powerful GPU and CPU. There are several advanced options you can try out, but for this build, we chose to go with EVGA Super Nova 650 G5. It is designed as a complete modular PSU with 650W of juice. Besides, it is also fully modular, which means you get improved airflow and reduced cluster.
Other features include a fluid dynamic air fan for extra cooling and EVGA eco mode, which I'm a fan of, for ultra-quiet functionality. You can get one of these PSUs for around £100. Although you might need to go slow on the price and get a cheaper option, the components in the gaming PC will require a minimum of 500W power supply.
It is imperative also to check the warranty and customer support when purchasing PSUs. We opted for the EVGA SuperNova because of its dedicated customer support and 10-year limited warranty. It is also 80 plus Gold certified and comes with an efficiency of 91% or higher.
6. Peripherals & Accessories
You might already have some of the required peripherals and accessories but also need to consider upgrade options. Most importantly, considering you will spend £1000 on a gaming PC build, you will need accessories that match. Some of the things you need for this build include a gaming monitor, gaming mouse, quality gaming keyboard, and a pair of headphones. 
Prices of these peripherals vary based on the specs, brand, and quality. If you don't already have one, you might have to go beyond your budget to get the best option for this build. Ensure you don't compromise on quality over price and always for long-term results.
Final Thoughts: Can I Build a Gaming PC for £1000 to Match the Best Gaming Computers in the Market?
Yes, as you have seen from the above review, building a powerful gaming PC to max out any game you throw at it with a budget of around £1000 mark is possible. All you need to do is ensure you put all the above factors into consideration to help you get the best value for your money. Additionally, always prioritize quality when purchasing any of the above components, and don't shy off from going a bit above the £1000 budget.