Being short on a budget is not rare in this era. However, having the best and most modernized device is also a temptation for the users. If you want to know the best budget-friendly Android devices along with the best cost-efficient data transfer tool, this article is for you.
Moreover, we will also guide you through transferring data with the best Android to Android transfer app. Scroll below to expand your knowledge regarding this.
Part 1: What is the Most Reliable Cost Friendly Android Devices of 2023
Even in this expensive age, you can find budget-friendly Android devices if you search thoroughly. However, to save you from hassles, this part will provide the best cost-friendly Android devices. Thus, let's dive into the details of these devices without any further delay:
1. Google Pixel 6a
Google Pixel 6a is an emerging Android device that you can buy in cost-efficient amounts. It comprehends the compact and lightweight design along with water-resistant features. You can also experience flagship-grade productivity and performance with this. Moreover, with its camera, you can capture and share HD shots on social media.
The battery life of Google Pixel 6a is also long-lasting, so you will not face any issues with this. The software is updated from time to time, which helps you experience more recent features. It also supports Google Assistant Powered voice typing, making your task easier.
2. Asus Zenfone 9
In a budget-friendly amount, another phone you can purchase is the Asus Zenfone 9. It offers a pocket-size design along with an ultra-fast fingerprint scanner. Moreover, the performance ratio of this phone is also well integrated, and you can also smoothly play videos and games in it. The gesture of this phone is open for customization.
The storage capacity, along with the camera results, are satisfactory at a cost-effective price. This phone's screen and dimensions are also sleek, smooth, and water-resistant. With its Dirac-tuned linear speaker, you can listen to your favorite music tracks with sound and audio balance.
3. Samsung Galaxy A14 5G
If you are low on budget, this phone can be an option of choice for you. As you know of the revolutionary functionality of Samsung devices, this phone can also offer the best performance. It comprehends the Exynos 1330 processor, which demonstrates its outclass power. The display rate is also well-dimensioned, so you will not think the size is extra small or large.
As for the storage capacity, it is highly expandable, so you can save lots of important data. It also integrates 5G connectivity along with a 50MP main camera. You will also find USB-C and a 3.5mm audio jack in it.
4. OnePlus N20 5G
With a 6.43 inches AMOLED display, saying the OnePlus N20 5G is a reliable option is not wrong. It offers a sleek quality build and a snappy software experience. You will also find 128GB storage in this exclusive phone. Other than this, you also have the option to insert a memory card for storage expansion. As for the battery life, it's long-lasting and also has fast charging.
The connectivity options are also available in this budget-friendly phone. With its HD camera, you can capture eye-catching photos and videos. It is the perfect choice for users who wish to experience innovation in a limited amount.
Part 2: The Best Budget-Friendly Data Transfer App for Android Devices
If you decided to switch to Android phones, you would need an app to transfer data from Android to Android. Luckily, you can use Wondershare MobileTrans to accomplish this task. It has the capability to move more than 18+ types of data. Above all, it supports many phones, so you will not be restricted.
Not only phone data but you are also allowed to transfer apps from one device to another device. Cross-platform data transfer, such as from Android to iPhone, is also possible with this software. Thus, you can change your device anytime without worrying about data loss issues.
Key Features of Wondershare MobileTrans
By using the WhatsApp Transfer of MobileTrans, you can transfer WhatsApp from phone to phone. It can transfer WhatsApp data such as photos, videos, location, stickers, etc.
To back up more than 18 data types, you can take assistance from its built-in "Backup and Restore" features.
It also supports the App Transfer and Playlist Transfer features for ease of the users. You can use it to transfer important data to a new phone.
Procedure to Transfer Data from Android to Android with Wondershare MobileTrans
Do you want to transfer data to your newly bought Android phone from the old one? Transferring data between phones in a manual way can be time-consuming and tiresome. However, with the following steps, you can smoothly transfer data from one Android device to another:
Step 1: Launch MobileTrans Software Successfully
To initiate the process, head to the official website of Wondershare MobileTrans. From there, successfully install and launch MobileTrans on your desktop by taking help from the on-screen instructions. Once done, select the "Phone Transfer" option displayed on the homepage of MobileTrans to move forward.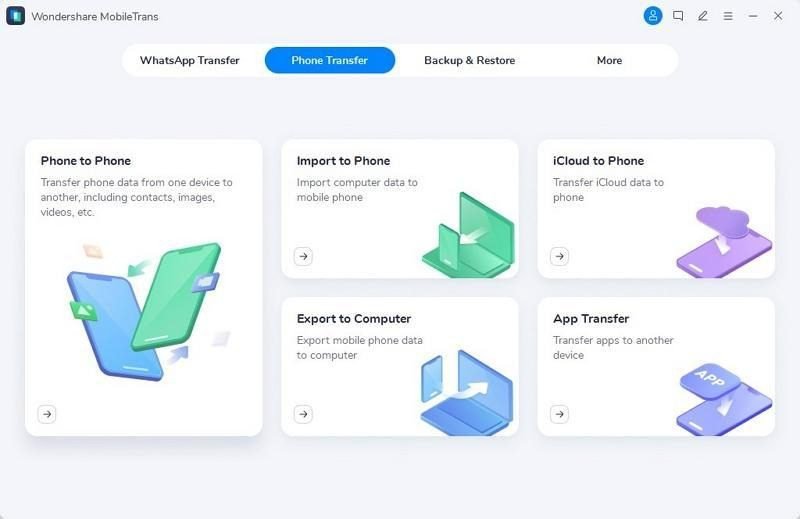 Step 2: Establish a Connection Between Android Devices
To proceed, click the "Phone to Phone" option on the Phone Transfer page. Afterward, connect your Source and Destination Android phones to your desktop. For this purpose, you can use the USB cable. Furthermore, you can hit the "Flip" button to swap the Destination and Source devices instantly.
Step 3: Determine the File Types for Phone Transfer
Following this, wait for the data to load and select photos, documents, music files, and other data according to your requirement. You can check the "Select content to copy" box to choose the complete data. Moreover, you can also delete the present data from your Destination phone by utilizing the option "Clear data before copy." Afterward, press the "Start" button to complete the data transfer process.
Conclusion
You can buy the latest Android devices in a budget-friendly amount. The devices you can purchase while on a budget are also listed above. This may include OnePlus N20 5G, Asus Zenfone 9, and more. In addition to this, to transfer data, you can use Wondershare MobileTrans, which is the best data transfer tool.